Locative eating in Overijssel at the end of the Hungry Gap
April 19, 2006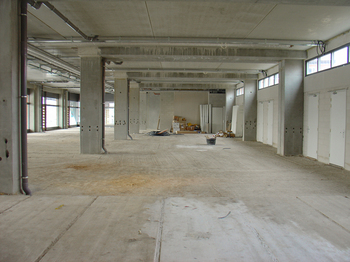 Image of a shopping centre under contruction in Enschede, NL. Soon to be a banquet location
Speaking of starving oneself, although it seems like it's spring, crop-wise we're right in the middle of the Hungry Gap, the period before the spring crops have come in, and when foodstocks stored from fall and winter are beginning to wain and look rather cruddy. Way back in January I wrote about how surprised I was that even though I had let my garden go to pot, there was still more than I could eat growing in the frozen ground. Now that it's no longer necessary to wear two pairs of woolen pants, there's not a lot of calories in my Occitanian kitchen garden.
Back up here in the Polar Circle, the cold weather lingers on and on and I'm in the throes of organising a banquet for ca. 70 people in May, right in the middle of the Hungry Gap (plus 2 cocktail parties, a breakfast and 2 lunches). The occasion is that the Dutch Art Institute where I teach, is hosting a 2 day international symposium titled, Here as the centre of the world (May 23-24, 2006 in Enschede, NL). The subject of the symposium is the position of artists, art initiatives and all their entourage operating at what is considered to be the 'periphery'. The reason that I have been saddled with what I prefer to call the 'art direction' of these feedings, is that I have a big mouth. And a heightened sensitivity for good aesthetics and sustainable practices. And I think that an art institute should set a good example for its students. And I happened to express these sentiments at an organisational meeting.
Often at cultural events in the NL, folks just throw a bunch of fluffy sandwiches smeared with margarine and factory made young cheese on an aluminium platter and call it a day. Although there are clear exceptions to the rule, I just couldn't bear the thought of the bad food jokes from our illustrious guests travelling all the way from Damascus, Beirut, Khartoum and Taipei. Also, as a member of the teaching staff and moderator of at least one of the talks, the thought of 2 days of bad food catapulted me into a state of action. In fact this is the perfect opportunity to investigate the wealth of organic (and organic-enough) produce in and around the easternmost bulge of the Netherlands. I'll be posting about it here.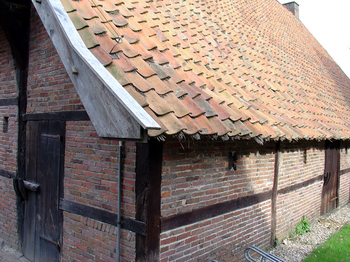 Image of the Los Hoes historical farm building in Enschede, NL. Soon to be breakfast location
This is what I've gleaned so far in terms of promising producers of delicious regional food, beer and wine:
Vegetables - Boerderij de Ketel / Het Groene Spoor in Rossum will most likely have: spitskool, cauliflower, broccoli, beetroot, carrots, lettuces, pak soy, kohlrabi and potatoes from last year if we're lucky.
http://www.deketel.nl
Vegetables -Landgoedtuinderij De Witte Raaf in Denekamp is hoping to have: spinach, raapstelen, and radishes
http://www.dewitteraafgroente.nl
Fruit - Düvelshöfke in Oldenzaal will not yet have harvested its newest crop of berry fruit. We'll just have to make do with frozen berries (cassis, barberries, gooseberries, blackberries) from last year's crop.
http://www.duvelshofke.nl
Fruit - Fruitboerderij Oold Bleank in Rossum will have some apples and pears left over from the winter. Pity their strawberries won't be in until June.
Oddly, no website
Fruit - De Manderveense Aardbei in Maanderveen won't have any strawberries yet. Maybe some strawberry liqueur?
Strangely, no website
Organic ice cream - Biologisch Roomijs Nieuwe Weme in Weerselo will have plenty of ice cream (vanilla, giandouille, caramel, strawberry) and will likely be able to supply us with dairy products.
Wine - Hof van Twente in Bentelo has whites and rosés from 2004, even award winners, but the reds are all drunk up. Hungry Gap!
http://www.twentewijn.nl
Beer - Bierbrouwerij Mommeriete in Holthone has a brand new lente bok (spring beer) ready for us. Madame Brewer told me it's like a triple and is even better than last year's. That's how you survive the hungry gap.
http://www.mommeriete.nl
Meat - De Bourgondische boer in Denekamp has very beefy looking Limousin beef for the omnivores. I am an omnivore.
http://www.boergondisch.nl/index1.html
I'm still looking for producers of honey, cheese and a bread if you know of anything.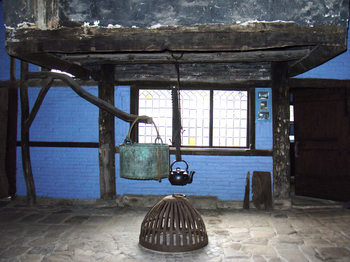 Image of the hearth in the Los Hoes a historical farm building in Enschede, NL. Soon to be a breakfast location.
technorati tags: hungry gap , locative food, Here as the centre of the world
debra at 20:57 | | post to del.icio.us
6 Comments »