If it Bleeds, it Leads
July 12, 2004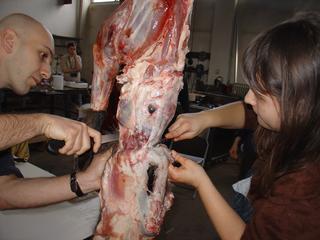 That's was one of the more memorable lines in Michael Moore's, 'Bowling for Columbine'. Moore is speaking to a TV producer, asking him to explain why there are so many fear evoking images on the US nightly news. The TV producer replies self-evidently, 'If it bleeds, it leads'.
I thought the line was a fitting title to the next few entries of Culiblog in which I will document a workshop that I followed at the Jan van Eyck Academie in Maastricht this last February. Onno Faller led a workshop titled, 'Cooking as Genre' the last two days of which were devoted to a little dead wild boar. Above you see Natasha and a handsome bald bloke, BOTH VEGETARIANS, skinning the poor dead beast.
Although I have killed hundreds of animals for food and skinned them and prepared them, I never find this an easy task. I find myself gritting my teeth as I remove their jackets. I am not repulsed, but I feel sad for the animal, I feel the extreme tension of the killing and of a death that I initiated by wanting to eat the animal. Every animal, even a lobster, fights for its life as we would do. And it never ceases to amaze me that once the animal is skinned, it becomes just a piece of meat to me and my mind switches to the matter of the marinade.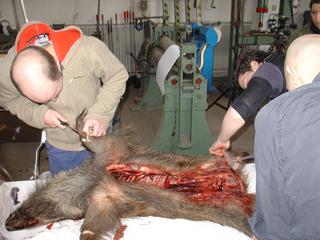 When skinning a boar (or most furry animals for that matter) you begin by cutting around the foot. You want to cut through the skin layer, and then a line down the arm vertically so that you can 'get in there' with your knife. Your damn sharp knife.
Taking great care not to puncture the skin (because you're a pre-Iron Age chef and you're going to make soup in it tomorrow) you 'shave' close to the meat, pulling away the skin with the other hand.
Oddly enough, the Jan van Eyck Academie metal shop was the perfect place to skin a boar. The overhead tackling system made skinning a lot easier than it would have been if we had just used the table. Whenever possible, try to get gravity on your side.
Here's a very handy tip for your work surfaces: cover the tables with THICK (240 grams) paper. This is an easy solution to solving the hygiene issues associated with preparing (wild) animals. You will still need to thoroughly wash the tables afterwards, but maybe a little bit less throughly than if there weren't a layer of paper. By the way, its the outside of the animal that's really dirty.
Tomorrow I'll show you what we did with the big pieces of meat but I promised marinade, and marinade you shall have. Beer, onions, lemons. That's Russian for kebab marinade. And as it says in the Talmud, 'Do not refridgerate the thing that must not be refridgerated'. That is to say, 'wine cellar cool' is cool enough for marinating overnight. Whenever possible try to get enzymes on your side.
debra at 13:28 | | post to del.icio.us
5 Comments »