Speaking of the Future…
how 'bout that market?
June 15, 2009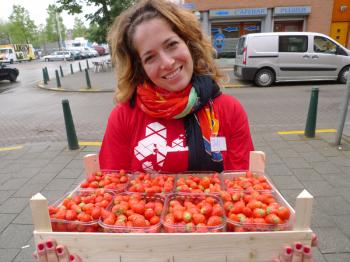 Market of the Future poster-child Juli Mata
You're probably wondering how the future turned out. Last weekend's was a culmination of the test-phase with FREEHOUSE's de Markt van Morgen / the Market of the Future, in Rotterdam Zuid's Afrikaanderwijk. Lucky Mi Fortune Cooking has been experimenting the past months with a Free Kitchen using existing neighbourhood food facilities, food flows and working with local entrepreneurs to investigate what the Afrikaanderwijk would produce if it designed its own food products.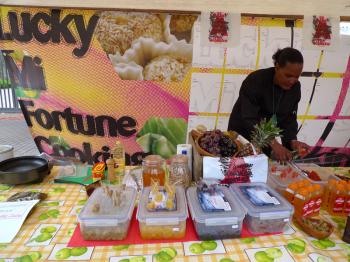 Yvonne G. unpacks the Groenhart Family ginger beer, fruit syrups & preserves
The final event was an two-day market and to be clear, Lucky Mi's involvement was just a part of this enormous FREEHOUSE project. On the first day, there were interventions into the business-as-usual format of the Saturday Afrikaandermarkt, orchestrated by FREEHOUSE and representing every area of this large urban outdoor market. Many of the stalls were re-styled and entirely new, locally produced product lines were unleashed on an eager public. The Lucky Mi Fortune Cooking Free Kitchen held court in the food court obviously, testing out the new market stalls designed by artist Dré Wapenaar. We gave away yummy taste-tests of our pickles & kimchi, an array of hummous with lavash bread from the Ata Bakery, ginger beers & kefir drinks and fruit syrups & preserves by Yvonne Groenhart c.s., and the delicious sambals by Dr. Mau.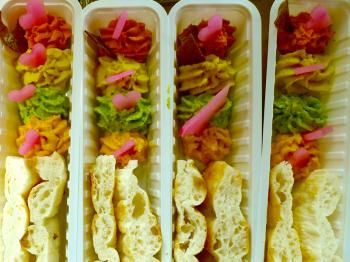 All natural, all yummy, vibrant hummous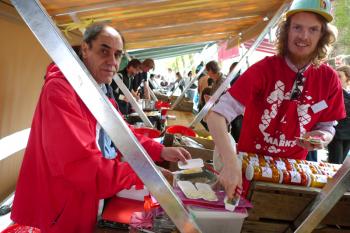 Chef Abdel and Lenn Verjans plate pickles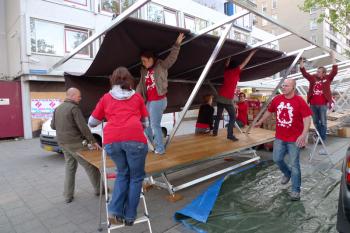 Market stalls designed by artist, Dré Wapenaar
One the Sunday, (2nd market day), the ENTIRE market represented the FREEHOUSE vision for the regeneration of the Afrikaandermarkt. Improved products, services and market interactions, a more vibrant Afrikaandermarkt was the result of months of work. The next posts will tell all about the various interventions made by many artists, designers and of course locals looking to keep the Afrikaanderwijk economy in the hood where it can bloom to the benefit of all those that live there.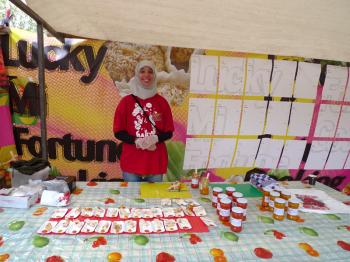 Super-seller Alia with Dr. Mau sambals
debra at 17:45 | | post to del.icio.us
2 Comments »
You should have a look for the best Asian streetfood. It's to be found in Malaysia on the island of Penang…
JP

Hi Debrah, nice to see your work! I am the chef nowadays in the Wijkkeuken van Zuid and love what you have done. I will follow your blog! Keep up the good food!

Comment by Lisa Goudzwaard — August 13, 2012 @ 21:32