DIY Mmmmuseum of
Oven Typologies
June 25, 2010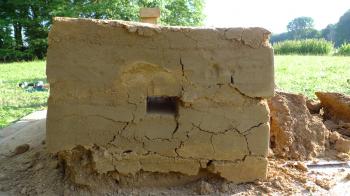 Our first tamped earth oven lacks some structural-integrity
Hey there lovers… of food-system infrastructure, this weekend (June 26 & 27) from 13.00h we will pilot the DIY-Mmmmuseum of Oven Typologies (Dutch acronym is DHZMOT) at Art at the Pool during the Sloterplas Festival in Amsterdam. (Links are in Dutch, unfortch.)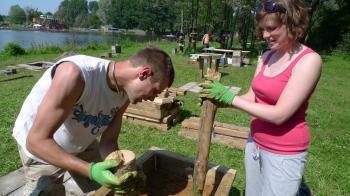 Tamp 500 kilos of earth into oven mold
DHZMOT = Ovens, ovens, ovens, and more ovens…
Ovens made of tamped earth, underground ovens, solar ovens made from wasted umbrellas and/or pizza boxes. Ovens in and for the public space ľ you design Ĺem, you build Ĺem, we use em! The DHZMOT is an always in development, ever-growing collection of manuals and materials with which tweeners of all ages can make their very own. Simmered sous vide, blackened, smoked or molten, smack of lip and finger lick, attention absorbing, at the very least transforming, producing together a cuisine vÚgŔtal in and on the ovens will afford the necessary trial by fire.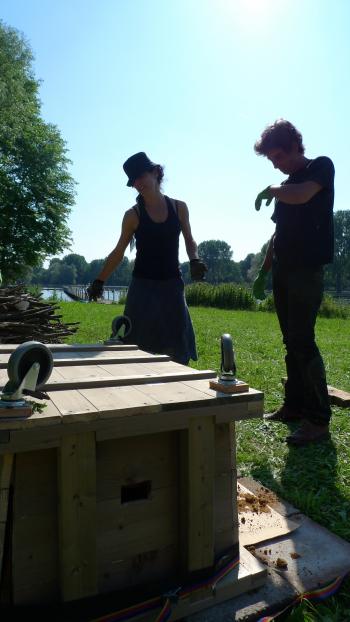 Do a little dance for good luck, spill some beer
The DIY Mmmmuseum of Oven Typologies is one of five projects in and around the outdoor swimming hole at the Sloterplas Festival event Art at the Pool. We are situated on an island accessible by a floating waterwalkway. Aside from meandering, lounging and soaking up rays, come and enjoy this opportunity to pilot the DHZMOT with us.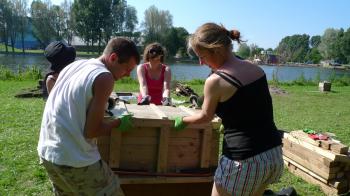 Release 500 kilos from the mold, piece o cake
The DIY Mmmmuseum of Oven Typologies is a project of URBANIAHOEVE, Social Design Lab for Urban Agriculture. Setting up this foundation and getting funding for the projects has occupied most of what used to be my time for blogging. (Which is why the foundation's project's are generously supported by Stichting DOEN, Fonds BKVB, Koers Nieuw West and Amsterdam Fonds voor de Kunst.)
URBANIAHOEVE is about developing new models for food-system infrastructure within the public space. We believe in setting up public access food infrastructure like open kitchens and outdoor oven installations that facilitate group cooking, group harvesting community jam sessions and the Int'l month of sauerkraut. THe DIY Mmmmuseum of Oven Typologies is a way of getting used to cooking ad hoc in the public space.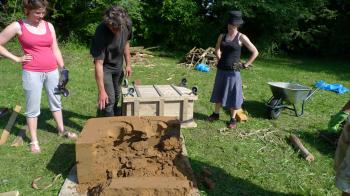 Dang! And we'd even kissed the earth!
DIY Mmmmuseum of Oven Typologies Island
Sloterparkbad
El Presidente Allendelaan 3
Amsterdam
Sat/Sun June 26 & 27, 2010
from 13h until youĺre thoroughly fried
Saturday night special guests: Caspian Hat Dance will blow us away acoustically with original and traditional Romani music, Klezmer, misbehaved village wedding music, Southern Italian Pizzica, and pretty songs sung in Romani on Bolivian mountaintops. Your high heels will be of no use to you at all.

2nd attempt: Walk away in disgust…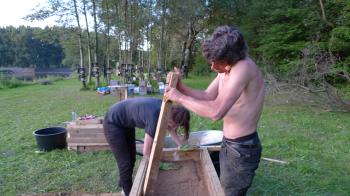 The 3rd attempt at the tamped earth oven hasn't yet been released from the mold. Come to the DIY Mmmmuseum of Oven Typologies this weekend and see what happened!!!
debra at 15:35 | | post to del.icio.us
No Comments »