Fresh blood?
Let me dispel the myth
February 15, 2010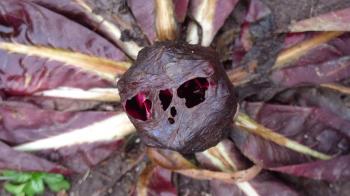 An endive, dying a little in order to live a lot
Early last week I invited some of my lady posse over for dinner on Saturday. In the spirit of more is more, if only under less auspicious circumstances, I called upon this constellation of girls because not all of them had met, and I titled my invite, Fresh Blood.
Would you believe that every single one of those ladies arrived thinking that there was actually going to be a blood ritual at dinner? Not amplifying.
At the very least they came expecting a performance, or some blood in the food. Meat, maybe? Dang witches all got their noggins a-crankin' that I would dish them up a challenging, blood-related evening, and they showed up behaving thusly. By the wee hours, one of 'em had to be forcibly dragged out by her feet!
Way to rock the house, Ladies! I'm openly gloating that you hold my potential for visceral impact in such high esteem, but it's time I dispel this myth. Fresh blood just means I invited new folk for you to meet.
Behave.
Let's do it again real soon, K?!
debra at 9:44 | | post to del.icio.us
3 Comments »
We did refresh the blood though!
Not the bloody way! Bloody hell. No.
The wine was red and the food very 'vet' and wet,
what was in the soup?
Give up the real secret
of that bloody evening (night)

Comment by Klazien — February 17, 2010 @ 22:57

The soup was made of KIMCHI!
(Koreaanse zuurkool - zelfgemaakt uiteraard), roasted root veg (parsley root, burdock/schorseneren), pumpkin, and kidney beans. Water, salt. Simple. Was good, huh!

Also served other root veg roasted (beet, carrot, burdock), (lots of repeat ingredients used/tasting differently), caramelised onions
caramelised garlic

AND CHEEEEEEEEEEEEESE!
AND (corn)BREAD!

And some girls drank a bloody lot of red wine… that was their secret.

Another Post– Quick…!

Comment by jeff Pool — March 19, 2010 @ 1:04