Spontaneous salads neither sown nor stolen
May 6, 2012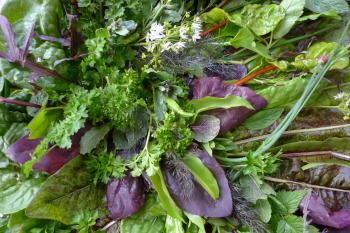 The lettuces in the DemoGarden haven't even come up, yet this is the sort of salad that we've been eating for the past 3 weeks. All 18 of these vegetables grow spontaneously in our permaculture garden, most of them sown more than 3 years ago. This bouquet-eating abundance is a testament to why we need to transform our cities into resplendent edible landscapes.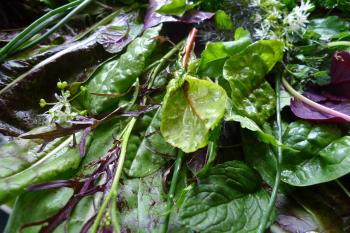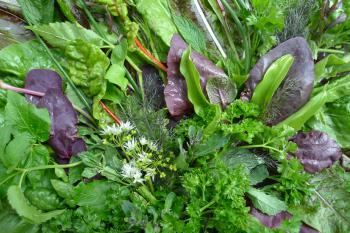 Ingredients: spinach, red orach, chard, smokey fennel, ramps leaves, ramps flowers, chives, chive buds/flowers, mystery speckled red lettuce, purple frills mustard, yellow mustard, raspberry leaf (plucked by accident, tastes wonderful), broccoli shoots, mint, ground elder, sorrel. Not pictured, garlic mustard (alliaria petiolata).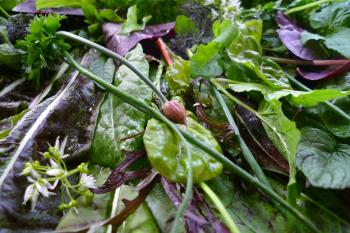 We're dipping these amazing leaves into our own lapsang souchong kombucha vinaigrette, also fermented from wild yeasts.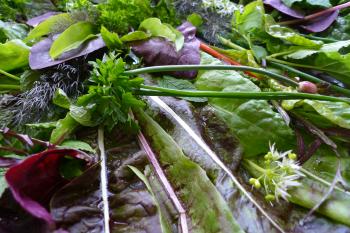 Edible bouquets, we walk, we pluck.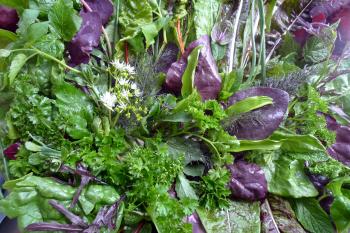 We talk about how lucky we are.
debra at 21:42 | | post to del.icio.us
1 Comment »
When I lived on an organic farm I used to count over 15 different greens in the garden salad before even getting near lettuce. I'm now spoiled for greens forever, meaning it is very difficult to have an appetite for store bought. You ARE super lucky, enjoy!

Comment by junglegirl — May 27, 2012 @ 11:20