Dear Annet,
November 8, 2011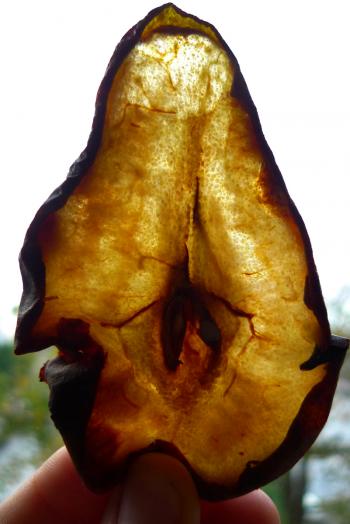 Weak, Polar Circle light illuminating a dried pear
Thanks for bringing those most tasty and juicy pears to the food co-op last pickup day. We bought 4 kilos and the next day had already eaten an entire kilo! The last 3k we dried because they were threatening to go soft. Just look what they turned into! Golden, chewy, hint of vanilla, sticky, full of flavour!
Please let us know if you'll be harvesting again soon, because I'd love to go with you and help pluck. Of course I'm happy to dry a bunch for you as well; dried pears bring a huge amount of happiness into the home.
Merši, verheugnis alom en tot straks op een pluk dag,
Debra
debra at 14:34 | | post to del.icio.us
2 Comments »
this story makes the apple-pear plucking afternoon even more rewarding ;-)

Comment by reina — November 8, 2011 @ 18:14

Hallo Debra
Reis al een tijdje door afrika, botswana, zit hier onder een worsboom maar ga binnenkort terug naar europa
woon en werk in zwitserland, kreeg een mail van iemand

heb je ooit iets gezien van

sarah illenberger food en design

http://www.sarahillenberger.com/index.php?c=workshow&p=570_pilzesammler

Comment by fredie beckmans — November 23, 2011 @ 17:24