Ik lust je R A W
October 7, 2004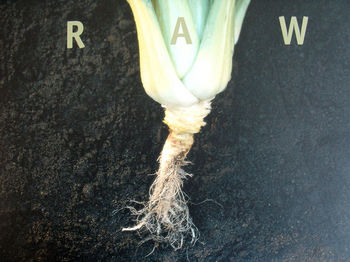 Wing flapping all around! Today I indulged myself and bought a cookbook that I have wanted to own for quite some time. R A W by Roxanne Klein (a culinary approach to vegan and raw food cooking) with Charlie Trotter, one of the US's most innovative chefs. Regular readers know that porkatarians like me can't also be vegans but I am still so very excited by this pairing of the minds.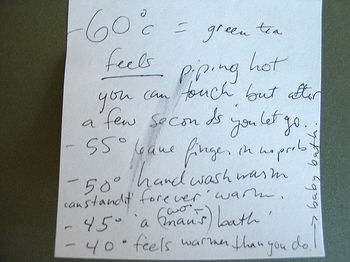 A browsiebrowse through and so far there are lots of recipes that look like watermelon spit-up (maybe she took Trotter's 'froth thing' a little bit too literally) and I think that bit about preserving the enzymes is a load of halookie. If you put a blended something in a dehydrator for 5 hrs I doubt very seriously that there will be any 'living' quality left in the foodstuff. TEST: Put yourself in a sauna for 5 hrs and see how you feel. Now imagine yourself to be a carrot!
B U T
The book is brimming with beauty, love of a rich variety of ingredients and new techniques (new since *Laurel's Kitchen) and I swear I'm going to take cashew cheese seriously this time.
* You're going to have to wait until tomorrow's entry about Laurel's Kitchen, written in 1976 it was THE quintessential bible of Californian hardcore vegetarianism.
debra at 17:52 | | post to del.icio.us
3 Comments »
If no one's going to comment immediately, then I'll comment myself. The right hand picture is a list of commonly used temperatures in the raw food cookbook. For raw food you're not supposed to heat food above 50�C, and a lot of the preparations are for temperatures between 40�-46�C. So you can eat WARM food, you can warm-marinate (although Roxanne doesn't) and you can use your oven on its lowest setting or a dehydrator.

Granted a dehydrator is better than an oven on low without a fan.

I made this list so that I would have a sense of what the temperatures feel like plus I'll put these concepts into image form in the cookbook that I'm working on now.

Klein and Trotter's R A W is written with imperial measurements and thus all of the temperatures are in Fahrenheit.

Just picky-picky here, but Laurel's Kitchen couldn't be described as "hard-core" vegetarian–Laurel's book is lacto, although maybe not ovo–can't recall about eggs. It's still a lovely book, somewhat India-influenced but very useful.

Comment by chad henry — December 30, 2009 @ 21:20