Chametz shrine
March 29, 2010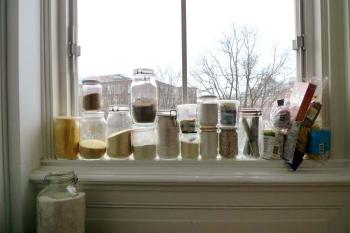 Shrine of *Chametz in the foyer belies the seat-of-the-pants factor of Pesach-ultra-lite. This is me nullifying my chametz.
And here's another question for tonight: What kind of gawd would ask us to throw out locally grown soft whole wheat flour from the ancient fields of Osdorp?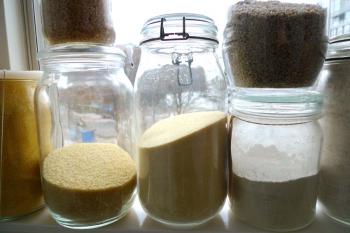 Happy Passover, y'all.
* - Chametz (also Chometz, Chumetz) refers to bread, grains and leavened products that are not consumed on the Jewish holiday of Passover, as well as all food items that are not specifically marked "kosher for Passover." According to Jewish law, Jews may not own, eat or benefit from chametz during Passover. This law appears several times in the Bible. The punishment for eating chametz on Passover is karet ("spiritual excision"), one of the highest levels of punishment in Jewish tradition.
Chametz is a product that is (a) made from one of five types of grains, and (b) has been combined with water and left to stand for longer than eighteen minutes without being baked.

… The Talmudic enumeration (which has become the traditional list of those grains) is:
Wheat, Barleym Spelt, Rye, Oats.

debra at 19:18 | | post to del.icio.us
6 Comments »