Attempt # 2 at Acquiring a Taste for Stinky Tofu
April 8, 2004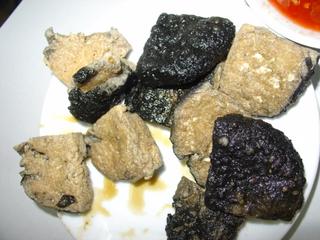 I like the i d e a of stinky tofu but I haven't yet acquired a taste for it. The version depicted above is fried. I thought this would diminish the aroma reminiscent of human excrement that this foodstuff can't help but exude. Sadly the frying seems to have had no affect upon the smell of stinky tofu. It's a pity that I can't yet upload an ODOR.
debra at 11:05 | | post to del.icio.us
No Comments
Sorry, the comment form is closed at this time.