A nut cheese nut case
June 25, 2006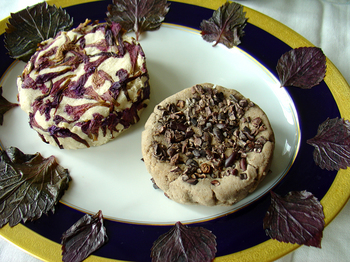 On the left, homemade pine nut paté with borage flowers. One the right, walnut paté with raw cocoa nibs. Normally this sort of food preparation is reserved for vegans, hippies and raw foodists. I am none of the above, a red-blooded porkatarian, I am. One of my readers disclosed that she thought that I was a man until a friend told her differently!
Anywho, this year I became an enthousiast of slightly fermented nuts, and I know, that's just plain faggy. Not that there's anything wrong with that! The nut flavours are delicate and would certainly go well with dairy cheeses. Note how I didn't say, 'real' cheese?
(The leaves at plate's edge are rose and mirin pickled shiso or perilla.)
To make these cheeses, follow the recipe for cashew cheese here, and substitute pine nuts or walnuts for cashews. Do not omit the sea salt, but do leave out the kimchi juice. Kimchi juice will make the cheese really cheesy - and these cheeses deserve to be a little sweeter than that. Instead, add a few glugs of maple syrup or a slab of honeycomb whilst blending.
debra at 12:06 | | post to del.icio.us
No Comments
Sorry, the comment form is closed at this time.