Hangover Helper
July 12, 2004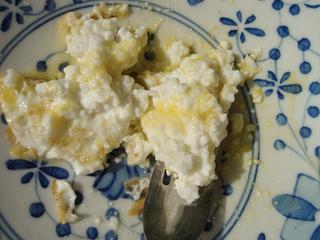 We only wanted to go dancing.
And of course pollute ourselves and then sweat it out on a dancefloor in a very slutty way. We wanted to smoke and breathe deeply, to sweat. The goddess of Shake Yer Bootie unfortunately had other designs for the evening and our simple plan fell through. You can't dance just anywhere. Sometimes that special sleazy ambience is essential to the formula. In the 'consolation bar' we sat to drink one more 'last one'. Above my head hung fake old-fashioned enamel advertisements for Guiness stout that asserted, 'Guiness gives strength'. Vitamine B complex, iron, excellent. I guess the moral of the story is that a person just doesn't always need a whole hell of a lot of strength. This morning I was waxing existential when I remembered, 'BREAKFAST!' And I remembered it twice. This is my second breakfast.
Fried eggs with 'cheese in a can', the Turkish sheep cheese rounds in brine sold in cans here. Salty, crumbly, meltable, beautiful to the beholder, delicious. Thank Gawd for breakfast.
debra at 12:57 | | post to del.icio.us
2 Comments »
you have a strange way of preparing youself for yer days chez nous … weren't you talking about juice-fasting? JT wants to know" does that mean I can't drink?", and with drink he doesn;t mean anything carroty or so … But if 'Guiness gives strength' the good news might be that we lots of that helping us with the fast?

Comment by Kristi — July 12, 2004 @ 20:04

i am fat.
what were we talking about?
oh yes, drinking during the juice fast. actually better to not do, but I realise that its unrealistic.

Comment by debra — July 12, 2004 @ 23:46