Sprout Salon Tonight promises to be parfumistic
December 15, 2006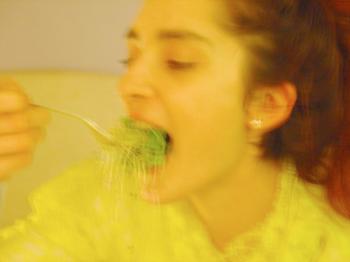 Culiblog covergirl Iva Supic loves her up some sprouts
While in another part of the world a loved one mourns the loss of a loved one, pouring over every verse of the Quran en famille, here in the Polar Circle it rains, blows and pours and we narrowly avert a Sprout War.
Now that the dust has settled, and the sponsorship agreements for the final month of the Grow Yer Own Dang Food Sprout Restaurant have been sealed with hearty handshakes and teary phone calls, we can get back to the important matters at hand. Take a look-see at who's sponsoring us (!):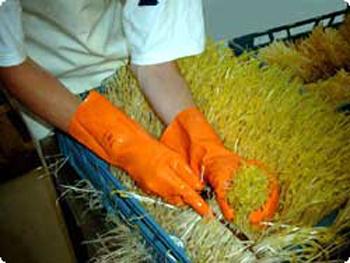 Harvesting the pea shoots at Van der Plas Sprouts
Van der Plas Sprouts is the main sponsor of the Grow yer Own Dang Food sprout restaurant and is a true sprouting pioneer, constantly expanding their assortment with new varieties. The entire crew at Grow Yer Own Dang Food is literally addicted to the highly aromatic sprouted herbs, like coreander and fennel. This company is passionate about elevating the use of sprouts and this is what I most love about them. Some of their famous clients include El Bulli, so I guess we're in good company.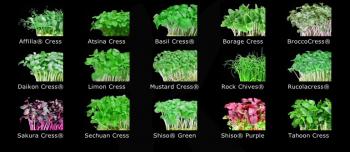 An assortment from Koppert Cress
Aside from being one of the Netherlands biggest suppliers of 'micro-greens', Koppert Cress is the originator of the 'cressperience'. Seriously, Koppert Cress thought up that word. The cressperience is a sprout tasting room avant la lettre and gawd knows how I love avant la lettre and a parfumistic approach to their sprout assortment. (I thought up THAT word.)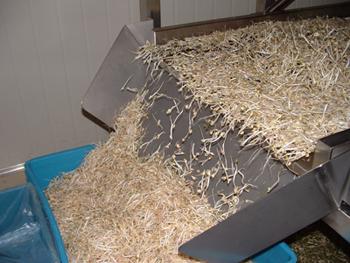 Mung bean sprout production at de Peuleschil
de Peuleschil (which means, the pea shell in the cute Dutch language) is Netherlands biggest producer of 100% organic sprouts. Although sprouting doesn't involve chemicals (it's just water, warmth and darkness)- de Peulenschil is proud to use seeds that are 100% certified organically produced.
Each one of these sprout growers brings something important to the experience that I want to create at the Grow Yer Own Dang Food restaurant. Culiblog is not into monoculture; not in agriculture, and also not in sponsoring agreements. We believe in healthy, diverse markets for thriving local growers. Diversity is culture afterall.
Tonight, December 15th, Mediamatic will host a Dinner Party Salon, serving, surprisingly, micro-green cuisine.
There will be origami.
There will be nerd yoga.
And other things.
If you want to dine, you'll need to respondez s'il vous plait +31 (0)20 638 9901. But if you just want to sit passively like a bump on a log and listen to folks go on and on about their projects (including me), fold a little paper, fold your body and be done with it, you can just show up.
Time: 20:00h
Location: Mediamatic's Night Garden, Post CS Gebouw, ground floor, Amsterdam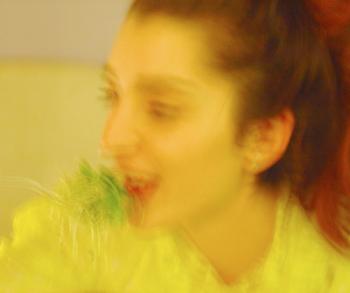 Culiblog covergirl Iva Supic en double with sprouts
debra at 10:38 | | post to del.icio.us
No Comments »