More raw beets for the neighbours
January 31, 2005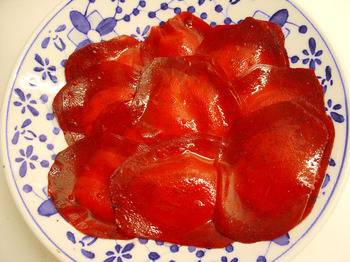 Raw beet ravioli. Delicious, beautiful and here I am hybernating. It was time for all of my vegetarian architect neighbours to meet over dinner. Click below for recipe.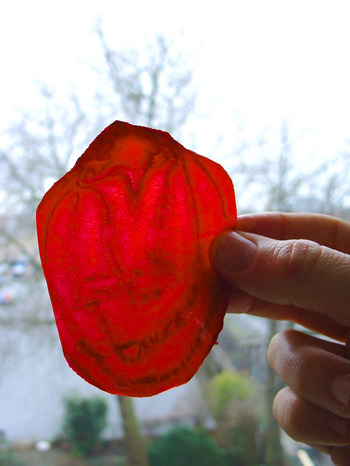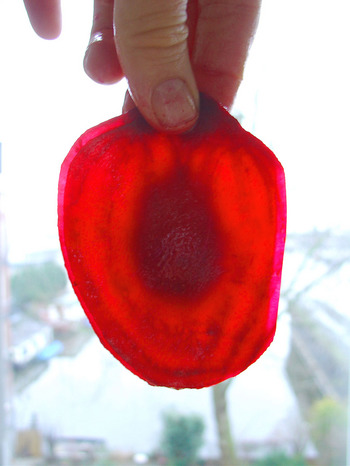 Raw Beet Ravioli Solomonova (serves 4) (marinating time 4 hrs, hands-on prep 25 min)
1 large RAW red beet (scrubbed and peeled)
5 tbs good virgin olive oil
3 cloves of garlic
2 tbs rice wine vinegar, OR blood orange juice squeezed from the orange, OR lime juice…
sea salt
1/2 cup homemade cashew cheese or 1/2 cup sheep cheese in a can mashed together with milk for moist and sliced green onion for that glowly colour we all like so much.
In a heavy bottomed skillet lightly warm the olive oil. Don't cook it, W A R M it. Press the garlic into the WARMed oil, remove the skillet from the flame and swish the pan around to mix in the garlic.
In a deep bowl slice the raw beet root with the aid of a mandolin into paper thin slices. This means you could read the paper through the slices if it weren't for the beet's dark colour. Work quickly. Pour the still warm olive oil over the beet slices, add the rice wine vinegar or orange squeeze or lime squeeze, sprinkle with sea salt and swish around to mix. Cover and leave for some hours (or even days) to marinate.
When you are ready to serve lay out the plates in your workspace. Take a slice of beet and sloppily scrape off the excess oil on the side of the bowl. Using a teaspoon carve a mini quenelle of cashew cheese from the cheese lump and place it in the centre of the beet slice. Take another beet slice, remove excess oil and place neatly on top of the other slice. Seal the edges gently, mushing the cheese to form a little ravioli. Arrange the raviolis on a plate, 3-5 raviolis per person is a nice way to start a dinner.
debra at 23:36 | | post to del.icio.us
11 Comments »