Capture the yeast within
June 5, 2007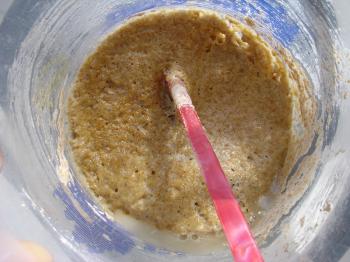 That's a chopstick for stirring, not a straw for slurping.
My girlbud and twisted lifecoach K'tje has been baking bread for hoards of guests and is in desperate need of yeast. Fresh yeast. Down in Occitania it seems that many a masterbaker is in fact a boulanger truqué. Dang faker bakers don't even have a proper block of yeast on the premises! K'tje asks if I'll bring some on down next time I come by to water my garden. But considering the amount of yeast this girl piles through, it's prolly better she learn how to make her own dang yeast.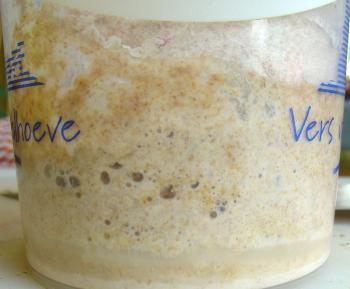 A few days on, evidence of the breath of life
This quote is from Allrecipes.com, used entirely without permission.
Wild Yeast and Starters
Before yeast was available in grocery stores, bakers kept colonies of yeast for making bread. These colonies were known as starters, and were sometimes passed on from generation to generation. You can make your own starter using commercial yeast, by using potato water (from boiled potatoes) to attract and feed wild yeasts present in the air around us, or by using the yeast found on the skins of organic grapes or organic raisins. Keep the starter in a one-quart crock, jar, or airtight container.
How to capture a wild yeast
Mix equal amounts of flour and water and let sit in a warmish place. Indoors on top of the electric fridge is ideal. I mention electric fridge because some people I know are considering making one of those non-electric Nigerian pot-in-pot fridges. Those things are only for cooling, they're incapable of warming up the environment and therfore unsuitable for growing yeast colonies.
In about a day you should start noticing signs of life (bubbles, maybe a slightly funky smell) give it a stir and add some more flour. Keep doing this for about a week, each day stirring and adding flour (and possibly some water, if it feels too dry to stir).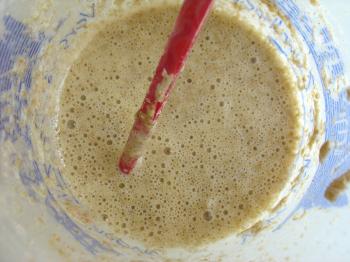 The bubbles come from little yeasts breathing
At a certain point, you'll have grown too much yeast colony because we're not big on the carbs anymore and we don't eat sourdough pancakes everyday. Common practice is to throw a bit of the beige gold away. Wasteful! Once you have baked with your own yeast and have some notion of its potency, there's nothing stopping you from placing large blobs of it in decorative recycled jars and giving them to your friends as presents.
You know that I'm kidding, right?
Alternatively you can slow down the process by putting the colony in the fridge. Feed it once a week. When you want to use some, take out a blob plus some (because this stuff isn't as strong as the industrial stuff) and re-animate it again by putting it in a warm spot (above the fridge) and feeding it for a day or two.

If you can't stop kneading beige things, yeast is so needy that it's more like keeping a pet than leavening.
Making yeast starter links: They're all from one website, because I really like the simplicity of these recipes the best. Plus, I'm suffering from CO2 information overload and don't particularly want to hear about it in my yeast recipes as well. 'Nuff said!
debra at 21:21 | | post to del.icio.us
4 Comments »