Subsistance farming can be so romantic
August 30, 2005
… if you only have to do it for a week. The long and short of it is that whilst living in the yurt, Lad and I didn't end up doing a whole heq of a lot of cooking, preferring instead to eat what fell into our mouths, right out of the hands that fed us. In the Occitanian summer that means raspberries, and yes, lots of leafy greens.
After the buzz of the new and the raw wore off, we did eventually develop a hunquering for heated food. Turns out that like most lads, mine knows how to BBQ, and is thankfully not averse to grilling a radish (or an ear of corn). We BBQ'd inside the yurt because the mercury did actually drop below 22┬░c at one point and we feared we might get the wrong kind of shivers.
Our favourite dish was a sorrel omelette prepared with Brillat-Savarin creamy cheese. Now I, in all my decades have never actually heard of a guy liking sorrel, or at least one willing to take it full on and fake it for an entire week. So for the time being, this spells blessing-counting time.
And oh how we turned eating my garden's first tomato into a wondrous ritual. Amen.
images from l to r: Lad eating from the hand that feeds him, domestic work-related gender issues au plein air, leafy green grower talks to leafy green eater about soil tillability (although clearly, Monsieur C. is tucking into more than just leafy greens!)
(Please read more… )
debra at 11:44 | Comments (0) | post to del.icio.us
Happy spoon
August 29, 2005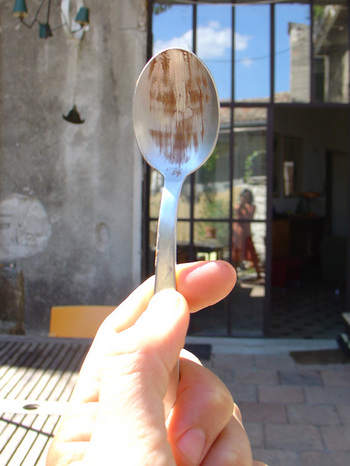 Yurt down, lad gone, summer's end. You can hardly blame a gal for eating choco-hazelnut paste straight out of the jar. The spoon came out of my mouth making a mockery of my attempt at food-medicating.
(Please read more… )
debra at 14:37 | Comments (1) | post to del.icio.us
Salad Song
August 26, 2005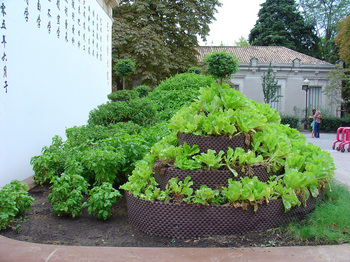 By now we are all well aware of the profound relationship between the citizens of Bejing and Montpellier. Therefore it should come as no surprise when the Occitanian cultural powers that be deem it high time for an 'international biennial' of Chinese contemporary art in their fair city. And why the heq not, if every other city can have one why shouldn't Montpellier?
Of particular interest to me was Song Dong's (Beijing, PRC) leafy greens installation at the entrance of the Pavillon du Mus├ęe Fabre. The work is titled, 'Art after Da Zhai' and I have done my best translating the programme description thusly: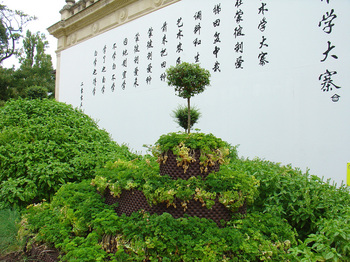 Song Dong uses one of Maoist China's most important political catchphrases, "Agriculture takes example from DaZhai." In the Sixties, the peasants of this village of Shanxi multiplied their grain production by seven and Mao Zedong presented Da Zhai with the 'red banner'. The mountains carved in terraces by the farmers became a political emblem.
(Please read more… )
debra at 13:06 | Comments (0) | post to del.icio.us