If you like fresh leafy greens and pork, you're going to love kruudmoes
May 14, 2006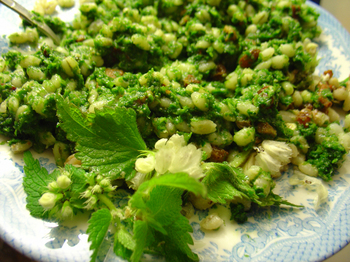 First impression: I may have taken an overly Californian approach to making kruudmoes this time, but although I should probably increase the gooeyness to make it just the way the natives do, kruudmoes is just crazy delicious.
If you're like me and:
- love to chomp away on all sorts of leafy greens, the weedier the better,
- adore all things pork,
- can't get enough of cultured milk products,
- are nostalgic about barley,
Dutch crude mousse is going to blow your mind.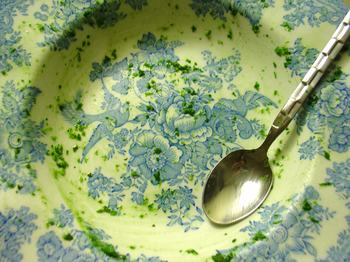 Normally I don't eat with a spoon, let alone a teaspoon. But I was tasting the oats and the greens mixture and became so enthusiastic that I couldn't even stop to set myself up with some sticks.
debra at 22:31 | | post to del.icio.us
No Comments »