Not cooking with flowers and leaves, a raw food recipe for marinated shitake mushrooms
March 21, 2006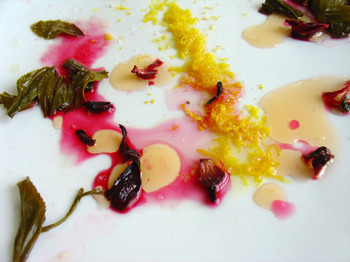 If I want to eat with my friends, I can't just serve up vegetables with the dirt still clinging to the rootball, the way I like it. I have to engage in some refining.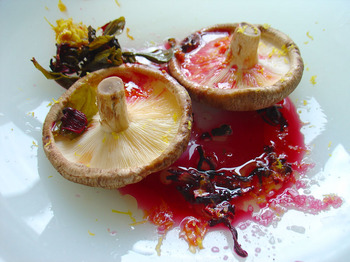 Hibiscus flower and green tea leaf marinated shitake mushrooms
(work: 7 minutes, wait: 1-4 hours)
- dried hibiscus flowers
- whole green tea leaves
- water
- fleur de sel
- lemon zest
- crayfish oil (vegetarians, relax)
- two shitake mushrooms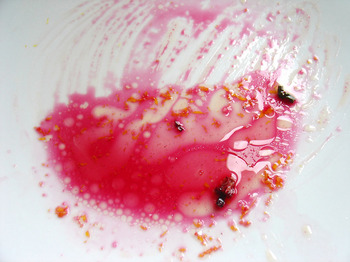 In the bottom of a cup, pour enough hot water to cover a layer of hibiscus flower and green tea leaves. You're going to make a highly aromatic and concentrated tea, something too strong to sip. Aim at producing four tablespoons.
(This year, hibisicus flowers seem to be my souring agent of choice. I find it hypnotising to watch the magenta colour leach out of the petals, and I just live for the 'powdery' aftertaste.)
Add to the 'tea' a big fluffy pinch of finely zested lemon peel, a goodly amount of fleur de sel, and a teaspoon or two of *crayfish oil.
Adjust the marinade and toss around with two large shitake mushrooms. Marinate for one to four hours before serving. Everytime you walk by, just toss the mushrooms lightly for fun.
You can keep the mushrooms for about a day without ruining the texture in or outside of the fridge. The marinade and juices leached out of the mushroom can be 'recycled', it's like bouillion for raw foodies. You know how I love the food recycling!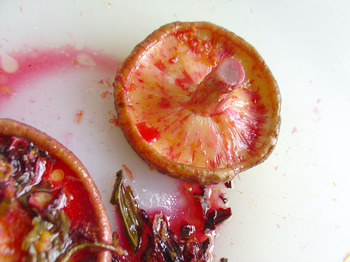 *A note on crayfish oil: you can't buy it. Mine was a cadeau made by my friend Marlein, to whom this recipe is dedicated. Possible (vegetarian) substitute: grape seed oil, barely warmed and barely covering half a fennel, star anise and a dried hibiscus petal. Leave to cool and sit for two days. Remove the 'stuff' and decant to a very clean jar. Store in a cool, dark and dry place.
*A note about using non-vegetarian, non-raw ingredients in this recipe: relax and enjoy delicious foods that have been made for you with love. Aromatic oils are like parfum, you need only a few drops. In this recipe you will need enough drops to fill a teaspoon or two.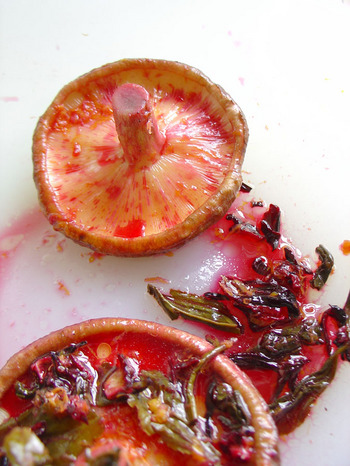 Both the green tea leaves and the crayfish oil have a powdery 'note' that compliments the woodiness of the shitake. This marinade smells like peonies. Shitake pivoine! My hands are parfumed from the shitake tossing.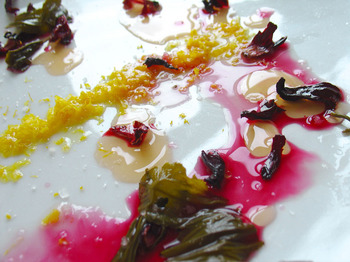 The recipe is dedicated to my dear friend Marlein Overakker, a chef who has turned me on to my favourite parfums and who is always a huge source of inspiration.
technorati tags: raw food recipes, vegetarian, shitake, mushrooms, cooking with flowers, cooking with tea, green tea


Ever since the hype started, I have to wrestle with myself for calling raw food 'raw'. 'Marinating tougher veg (like cruciferous vegetables, root vegetables and mushrooms) in something sour, oily and salty, is a good way to release the complex flavours that are reminiscent of cooked food without destroying the nutritional value.' Note to self: big fuqn whoop. If eating cooked vegetables is the worst thing you're doing to your body, you proabably don't have a lot of bad going on in your life.
debra at 14:14 | | post to del.icio.us
9 Comments »