Quandry: non locative comfort food
October 2, 2005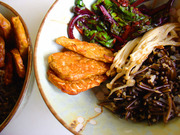 First things first, hats off to Auke Touwslager for inventing the term locative food on the 27th at the Food Design Symposium at the SMCS. For me this term pinpoints the quandry with which I am faced as a 3rd generation ex-pat. (With some folks it's just baked into the genes.) Locative food is food that communicates location by its very nature. A truffle could communicate Occitania for example, and truffled eggs would seem to me out of place in Hawaii, Mongolia or Ghana, (unless things have changed drastically) but normal (although nonetheless special) in the Cevennes.
If we consider locally grown food to be desirable for our health, the health of the global environment and the health of the local economy, what do we do when we've transplanted ourselves to the other end of the planet and get a hunquering for non-local foods? Is eating a Pacific Rim style rice-bowl morally coherent as an inhabitant of the Netherlands? In an ideal world could we make choices about prioritising the import of certain non-local foodstuffs that we all think we need? My non-locative Dutch list would be:
coffee
rice (I have 7 types in my larder at all times, only 2 of these come from Europe)
soybeans and related products (my tofu and tempeh are produced within 2 km from my house, but the beans, where do the beans come from and are they GM?)
Occitanian wine
olive oil
sesame seed products (tahin, sesame oil, seeds)
most seeds and nuts
peanuts (and that Nectar of the Gawds called peanut butter)
According to the list above it seems that being a vegetarian in the Netherlands, would relegate me to eating quality lacking products made by culinarily handicapped hippies. The image above shows a version of my favourite rice-bowl dinner, of which only the beet leaves have been grown locally. Can non-locative comfort food be sustainable. Even as an enthusiastic porkatarian, I eat one heq of a lot of brown rice and soybeans.
debra at 11:40 | | post to del.icio.us
12 Comments »