Cinnamon & cardamom meringues
kosher for Pesach
April 22, 2008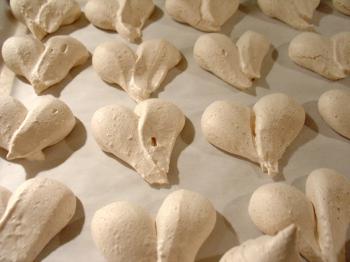 I heart pareve desserts.
One of this year's Pesach innovations was a sephardic-style seder dinner which more or less cancelled out last year's innovation, the Pesach Ultra-lite. Whatevs, now that we've made these recipes our own, we can teach ourselves to make light of them. It's about liberation.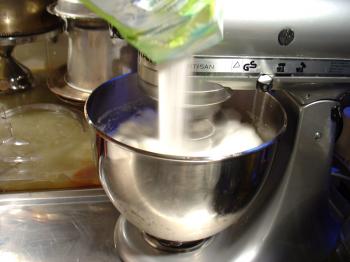 Links to standard meringue recipes below.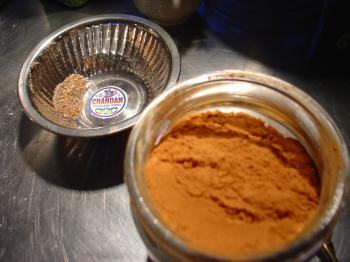 To our meringue mixture Marlein and I added a goodly amount of freshly ground cardamom and even more cinnamon. Heady and aromatic, you could probably burn the meringues as incense. Let's check.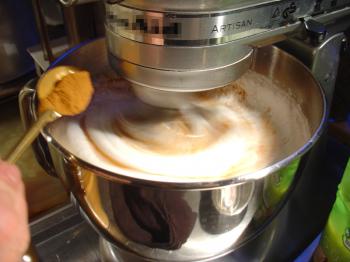 Whippity dippity do! Once out of the oven, the meringues were as spicy as peppermints.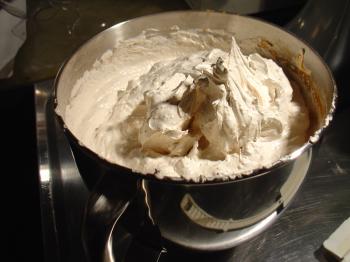 When you can hold the upturned bowl above your head without losing the meringue, it's beaten stiffly enough. Don't torture yourself, employ a machine for this heavy work.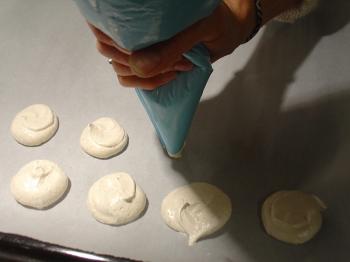 We used pastry bags to form the meringues into dots, hearts and doodley towers before popping them into the oven to dessicate.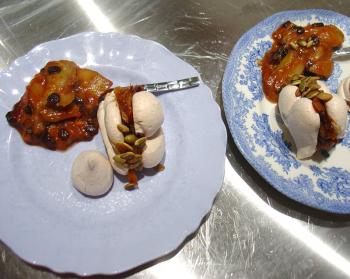 At the seder we served the meringues with our own variation on an Egyptian Haroset, and a molten spoonful of rhubarb fried with cinnamon and currants to give our sweet teeth a break.
Debra and Marlein's Sephardi-stylee haroset

- 1 part soft black dates, pitted (not joking about the 'soft')
- 1 part figs, sliced thinly
- 1 part dried apricots, sliced thinly
- 1 part golden raisins

- lemon juice to taste
- orange zest to taste
- orange flower water to taste
- ground cinnamon, a goodly amount!

In a large bowl, mash the dates until you have a somewhat homogenous mixture. Stir in the figs, apricots and raisins. You can use a mixer with a dough hook if you think your arm will get tired. Alternately, you can cut through and fold the mixture with a plastic dough scraper.

Add the other ingredients to taste. Don't be shy with the lemon juice. It will open up the other flavours. Marlein and I have been really into cinnamon lately, and we love the way that if you use a lot, it will give the food a fuller texture. Cinnamon is considered to have medicinal qualities which are beyond the scope of this blog. Suffice it to say that men should enjoy copious amounts of freshly ground cinnamon and Mum's the word.
Meringue recipes and Jewy links:
A good, standard meringue recipe.
Note: to make meringues, all utensils must be completely grease-free. The egg-whites must contain no trace of yolk. You will also need to experiment with your own oven, until you can get it low enough. Your kitchen must be dry - don't make soup and meringues at the same time.

A good instructional video of how to make meringues.

Marlein Overakker of the internationally known Wandering Banquets marlein dot overakker at gmail dot com

What is kosher for Passover?
During Passover, there are additional restrictions on what foods may be eaten. Jewish law prohibits the consumption of leavened products, and furthermore any product made from the so-called "five species" of grain—conventionally viewed to be wheat, rye, barley, spelt, or oats[10]—which may have been inadvertently briefly moistened sometime after harvest, and thus begun the fermentation process which is key to leavening. The exception to this rule is matza, which has been ritually supervised from harvest to packaging to ensure that no leavening has occurred.
Ashkenazi Jews are further restricted, by custom, from eating rice, legumes, and corn (collectively called kitniyot) during Passover. Due to the prevalence of corn syrup in American processed foods, many common items are disallowed for Ashkenazic Jews during Passover. In particular, Coca-Cola produces and distributes "kosher for Passover" runs with its corn syrup-free recipe during Passover in the United States.
In order to prevent inadvertent consumption of leaven, observant Jews maintain an entirely separate set of dishes, cutlery, pots, pans, etc. for Passover, much as they maintain separate sets of kitchenware year-round for milk and for meat. Before Passover, the house is rigorously cleaned to eliminate any remnants of chametz, no matter how small. Some Jews even maintain a separate kitchen for use during Passover, though this is rare, since it is not economically practical for most.
Due to the high likelihood of chametz being found in food with even a small amount of processing, most commercial products require special Kosher for Passover certification. This is usually marked with a plain letter P on the label, or with the words "Kosher for Passover" or "May be used for Passover.

The Islamic dietary laws (Dhabiha Halaal) and the Jewish dietary laws (Kashrut) are both quite detailed, and contain both points of similarity and discord. They share a common root: a code of laws found in Leviticus and recapitulated in the Koran.

Similarities

Blood and swine are prohibited in kashrut and dhabiĥa halal.

Many animals permitted in kashrut are also dhabiĥa halal, such as bovines.

Kashrut and dhabiĥa halal guidelines both generally forbid the consumption of amphibian animals such as frogs. [According to kashrut, almost all insects are not kosher. The few kosher insects are specific types of locusts and grasshoppers which are seldom eaten today. It is also a consensus among Muslim scholars that most insects are forbidden except for locusts.

Kashrut states that kosher aquatic animals must have scales and fins. The most prevalent consensus among Muslim scholars is that in order to be dhabiĥa halal, the fish must have scales (nothing is said about fins). However, according to Jewish oral law all fish that have scales have fins, thus making all fish with scales kosher and thus the law being essentially the same dhabiĥa halal.

Differences

For a substance to be dhabiĥa halal, it must not contain alcohol of any kind. The strictness of this with regard to the presence of extremely small quantities of alcohol in cooked foods depends largely on individual commitment and interpretation. Except for grape wine and grape juice (which must be manufactured under Jewish supervision), Kashrut allows any sort of alcohol, as long as it has no non-kosher ingredients (including any unsupervised grape extracts).

The list of animals forbidden by kashrut is more restrictive, as kashrut requires that, to be kosher, mammals must chew cud as well as have cloven hooves. Dhabiĥa halal requires that an animal have cloven hooves as well. Thus, various animals such as the camel are permissible as per dhabiĥa halal, but not according to kashrut.

Unless prepared according to a special process, the hindquarters of cows, sheep, goats, and other ruminants are not generally considered kosher. Dhabiĥa halal contains no such restriction regarding the hindquarters.
Kashrut prohibits shellfish such as lobster, shrimp, clams, and oysters, while there is debate among Muslim scholars regarding the status of shellfish; however, most Muslims consider all seafood halal and do eat shellfish.
debra at 14:52 | | post to del.icio.us
No Comments »