Meat meeting tonight
October 5, 2006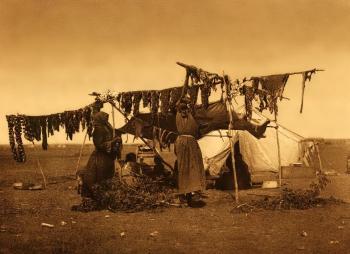 Image of First Nations Sioux ladies drying meat used entirely without permission.
That should read meat fight tonight! If you're interested in the meat industry and are currently in Amsterdam, you're not going to want to miss tonight's Cross-thinking about Sustainability - Rethinking the Global Meat Industry at Felix Meritus on the Keizersgracht. Specifically the event promises to address the environmental impact of raising livestock and eating animal protein. culiblog has an inside scoop that there will be audience members present that are heading the teams cooking up meat in the laboratory using animal and/or vegetable protein and not involving any actual livestock at all. Let the wingflapping begin.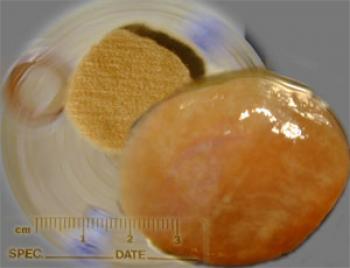 Image from the Tissue Culture and Art website showing an attempt at growing frog muscle tissue used entirely without permission.
Indeed, it seems there are two camps in this crazy mixed-up world that refuse to believe in rice and beans like the rest of us. One of the camps is animal and one is vegetable. Just for the sake of poetry, it would be nice if at tonight's lecture there was also a representative from the mineral camp, but we'll just have to wait and see if anyone from the oil industry shows up to defend themselves (and all that other foul off-subject stuff they're doing). I'll be the one sitting in-between the esteemed gentlemen catching all the spit. I was thinking of wearing a skirt.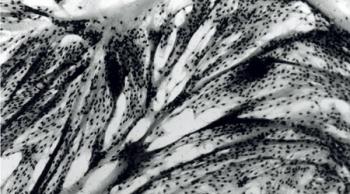 Microscope image of muscle tissue from the Pruned landscape architecture weblog used entirely without permission.
I would like to take this opportunity to dispel a myth. This week I have spoken to the heads of both Dutch research teams working to be the first to produce an alternative to livestock grown meat. For clarity's sake I would like to announce right here and now that I have spoken to Professor Haagsman (Meat Scientist!) who told me that 'lab meat' does not yet exist and that we will have to wait at least six years if not fifteen to taste this product. I know a lot of media suggests that this product exists, but this is apparently 100% not true.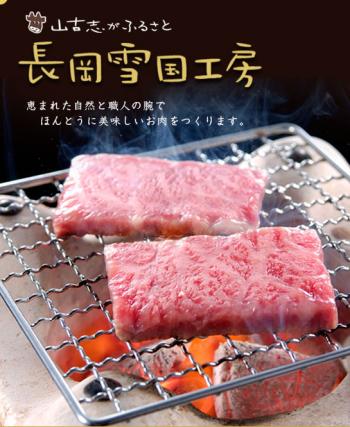 Image of rectangular cuts of perfectly marbled beef from the E-meat website (in Japanese language only) and used entirely without permission.
On behalf of the Dutch cultural sector I would like to apologise for the consistent use of poor English grammar in public lecture titles. As a way to explain this phenomenon I offer the excuse that the Dutch cultural sector hasn't yet accepted the internationally embraced convention of hiring native English language proofreaders. For this, the entire world is forced to suffer.
debra at 13:37 | | post to del.icio.us
1 Comment »
The mineral camp was in fact present in the form of the Dutch Peak Oil Foundation. Nice to meet the gents, plus one of them bought me a beer, always nice.

Comment by Debra van Culiblog — October 6, 2006 @ 7:35