Keeping one's vows
January 19, 2005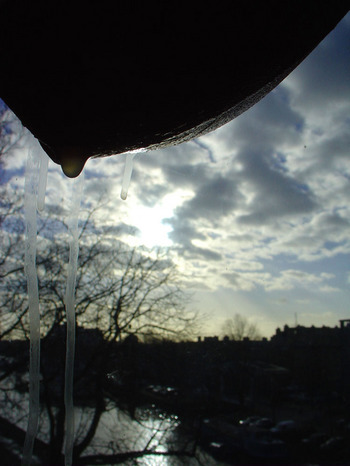 Remember in October when I had just bought Roxanne Klein's R A W and I reported how it made me homesick for Laurel's Kitchen? And then upon rereading Laurel's Kitchen I made a vow to 'take cashew cheese seriously' from now on?
Well, I have been taking cashew cheese making very seriously indeed, and I believe I have improved upon the Good Ladies' recipes. Pictured above are some of the steps in this easy process (from l to r: placing the blended cashew butter in a cheese cloth, cheese cloth hanging in the window, cheese cloth dripping with cashew milk and dark winter sky).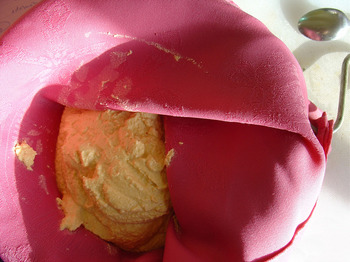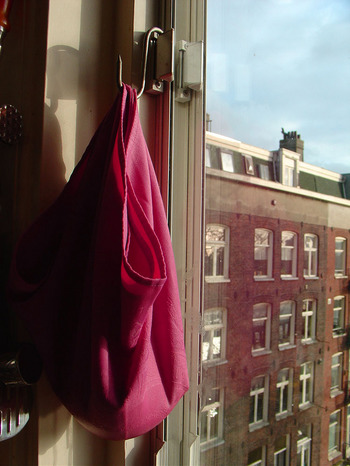 Cashew Cheese Solomonova (makes one cheese)
(process time: 3 days, hands-on: 30 minutes)
2 cups raw cashews (soaked in cold water for 1 day and drained)
3 tbs water
3 tbs fresh and bubbling kimchi juice (secret ingredient)
sea salt
Blend the cashews, water, juice and salt until extremely smooth. This takes about 4-6 minutes.
Prepare the cheese cloth. In this case that means any sort of loose weave cloth that will let liquids pass through - it can be a tea towel. Wet the cheese cloth thoroughly and devise a way to hang it somewhere where the 'cashew whey' can drip into a container. I like to use my window handle and a meat hook probably because it appeals to my quirky nature.
In a bowl place the open cheese cloth and dump in the wet cashew butter, tie it up, hook it up and let 'er drip. Now is the time to quit obsessing about this dang cashew cheese. Let the cheese drip at least 8 hours or whatever is convenient. (If you start in the afternoon, the cheese is 'dry' the next morning.)
When the cheese is dry, take down the cheese cloth trying not to disturb its' form. Gently peel the ball of cheese away from the sides so that you can place the cloth without too many folds into a container - like a recycled yoghurt tub. Fold the cloth over the tub 'to close it' and place the cheese in the fridge for at least 24 hrs.
After 24 hrs the cheese is finally ready. You can eat it now or save it up to a week in the fridge - it will just get better as it 'ages' because of the cabbage juice fermentation. Cashew cheese made like this is similar to a soft new dairy cheese and you can serve it without any shame as part of a cheese course with young goat and sheep cheeses. Of course you'll soon want to experiment with flavouring it in different ways but I found that the kimchi juice gave the 'cheesiest' flavour.
debra at 17:09 | | post to del.icio.us
4 Comments »