New digs in the polder circle
June 26, 2008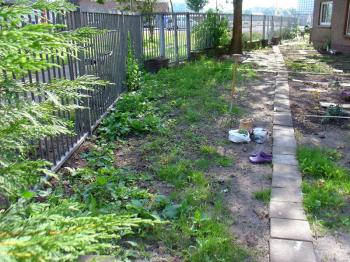 As of yesterday I became a multinational allotment holder. These are my new digs at Amsterdam Noord, a 7 minute bike ride from my flat, a 3 minute ferry ride from the mainland, and 4 steps off the ferry. Although the parcel seems to have some extreme shade, soil compaction and charm issues, the upside is that it's close enough that I can garden in my pyjamas, which is known to decrease stress. Now that I have 2 allotments 1.400 kilometers apart, I can neglect them both equally.
In real life this allotment is part of Toine Klaasen's Reserve / Reservaat at Young Designers and Industry HQ. Klaasen divided the 500m2 of virtually unused garden into 24 allotments and doled them out to us artsy-fartsy types as personal space. What this ultimately means is that I can potter in my pyjamas and that I will unlikely create kafuffles with my Permaculture Plus gardening style.
Upon arriving yesterday I dispensed with the observation phase required in permaculture and dove directly into the occupation phase, planting butternut squash and purple basil seedlings. Today I'll get started sowing my beloved green manures and investigate what it will take to install some raised beds in September. The only abundant in-situ building material for the beds seems to be 20×20 cement tiles and I think that 20 cm high beds can't in all honesty be referred to as 'raised'.
debra at 14:44 | Comments (0) | post to del.icio.us
Lucky Mi Fortune Cooking
June 19, 2008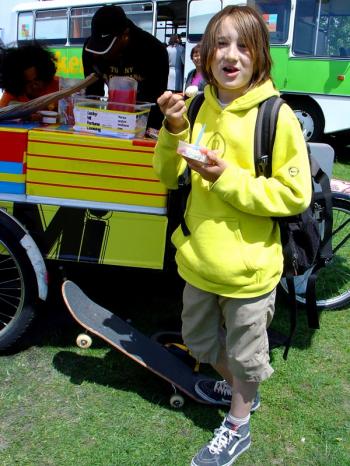 Local sk8r boi enjoys the coconut cassava bonbon with newly aromatic herring.
In the past year I've been working with community food entrepreneurs; cooking studios, restaurants, small food stores, and local vegetable growers strengthening networks to innovate snacks that could be sold locally. Not big-business food, just extremely yummy and secretly healthy street food snacks made from what's already going on; a snack-platform, by the folks, for the folks.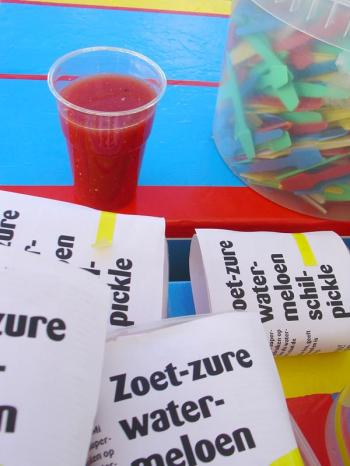 Super-use is everything but the squeal… watermelon juice and pickled watermelon rind; refreshing and we assume rejuvenating.
Together with my partners Imagine IC in Amsterdam Z.O., Kosmopolis Rotterdam, and Vakmanstad/Skill City (Rotterdam), I initiated Lucky Mi Fortune Cooking, a mobile snack platform to research and focus on food culture and identity in the diverse Dutch neighbourhoods. An underlying notion of Fortune Cooking is super-use; super use of the food flows, available expertise, facilities and networks, in order to nurture informal and micro-economies. In just two weeks we'll launch this dimsumptuously experimental snack brand at the Amsterdam Zuidoost Summer Festival. The images in this entry are from our try-out last weekend at the Rolling Kitchens event in Amsterdam's Westerpark, but starting July 5th, we'll have an actual snack wagon - designed by bona fide architects. (More on that in a later entry.)

Groentoe Akansa is a leafy green masala polenta wrapped in a leaf and served as an offering.
Lucky Mi snacks for this summer are being innovated in collaboration with Mavis Hofwijk from Surinaams Buffet, a catering and cooking studio in Zuidoost. Mavis is something of a gastronomic superstar and is without a doubt the go-to-gal when folks like the Dutch Queen or Amsterdam's mayor Job Cohen (yes, he's a bro) get a hunkering for Surinamese cuisine. I am honoured to be able to work with her and her team, which includes her culi-knowledgeable daughter Candice.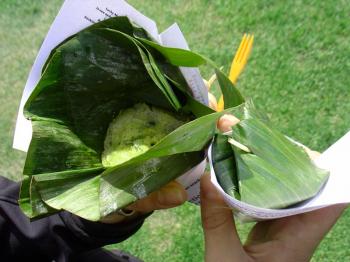 An unrolled groentoe akansa, pronounced grewn too ah kahn sah.
Of course the carbon footprint part of your brain is wondering where all this tropical food is coming from, and I am happy to report that the leafy greens that Mavis uses in the Lucky Mi Fortune Cooking snacks come straight from the farms of Mario Balhari, just a bike ride away in nearby Amstelveen. Tropilocal! Although Mario is one of those cosmopolitan farmers who works with collectives in Cuba and Surinam, he also has his own fields right here in the Heimatt where he grows the delicious am soi, baji, and klaroen leafy greens. Together we're working on developing a tropilocal salad box for the July 5th opening.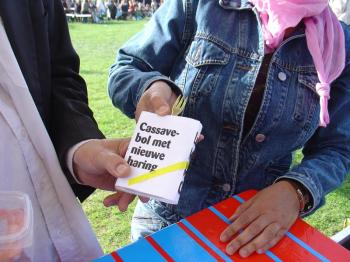 Buy some coconut cassava bonbon with newly aromatic herring and watermelon pickle, and get a free fork!
Lucky Mi Fortune Cooking is a mobile snack restaurant and culinary embassy. In-situ snack innovation and collective entrepreneurship is the result of the collaboration between myself and brilliant neighbourhood food entrepreneurs from Amsterdam Zuidoost and in Rotterdam's Afrikaanderbuurt. Lucky Mi is 100% food from the 'hood and a purely dimsumptuous snackology.
Heads up, our menu-not-so-fixe changes frequently and at our slightest whim! Changes will be posted here and at our soon to be announced website.
debra at 22:33 | Comments (0) | post to del.icio.us