Moralist hangups
June 20, 2004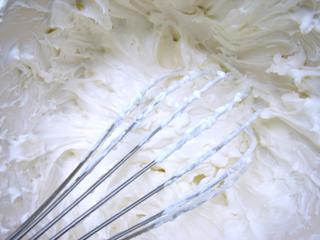 It's a day for raucous rejoicing when an immigrant to the Netherlands can help the natives remember their culinary traditions. Hangop is a Dutch summer dessert. It is simply yoghurt hung up in a wet tea towel until all of the whey has drained out of it, thickening the yoghurt in the process.
'Why drain yoghurt yourself?' you may ask. Indeed, why hang up yoghurt when we can now buy perfectly delicious, hyper-thick and fatty yoghurt at Turkish shops. The Turkish version even comes in a handy tub that when recycled works brilliantly as vernacular tupperware.
The reason you should drain your own yoghurt is that this process is beautiful to behold and it yields a urine coloured water called 'whey'. Drink whey as a thirst quencher. Served ice-cold, there is no subsititute for piercing through the thick wall of mucous produced by an 80 kilometer cycling adventure than a good glass of whey.

Citrus Hangop serves 4-6)
- 1 litre of yoghurt 'well-hung' means at least 6 hours of hanging in a pre-moistened tea towel. Knot the corners of the towel around something high up and pour the yoghurt into this 'sack'. Put a container underneath to catch the precious whey dripping through the cloth.
- 1 teacup of syrup from the orange marmalade as a sweetener (or maple syrup)
- zest of 1/2 a lemon
- juice of whole lemon
- 500 ml of whipping cream, well-whipped
Whisk together until satiny smooth.
Fold in:
- a few grains of saffron
- a few squirts of rosewater
Set aside to chill for at least 2hrs.
debra at 16:35 | | post to del.icio.us
3 Comments »
My mother used to make 'hangop'. She threw away the fluid though… She probably didn't know it was special.

(het voelt vreemd voor mij engels te praten tegen jou. ; ) )

I haven't yet met someone in the NL who shares my love of whey. In Austria they have softdrinks made out of it. 'Molka' is basically a Fanta-esque drink but made primarily of whey. Rivella is made from whey.

Comment by debra — June 21, 2004 @ 9:36

In the supermarkets here there's a softdrink marketed on childeren called 'taxi'. I think it's very yukkee, Max made me buy it one time. It has wey in it, at least, I think it has…
(It's only fair to try my best to write in English on your log, you write Dutch on mine..)