Changes
October 4, 2004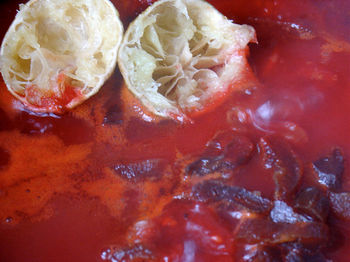 This recipe for Chalupsie has been hybridised to the hilt. Pronounce it however you like, it's just Stuffed Cabbage or Chou Farci and up here in the Polar Circle we need hearty winter fare like this.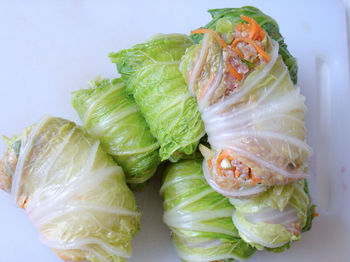 C H A N G E S :
It was my Gramma's recipe from the 'old country', from HER mother, but Grams used minutemaid frozen lemon juice concentrate ? something the 'old country' never had. I dropped 'that ingredient' like a load of so much cement over Tchernobyl and replaced it with a spoonful of thai green curry paste plus every single part of a fresh lime.
Some other changes that I have made include fractalising the prep time from 2hrs to 20 minutes. Now instead of reminiscing about chalupsies we can actually eat them. I also replaced the old country hamburger helper and changed the kind of cabbage to one that can be denuded of its leaves in one fell swoop.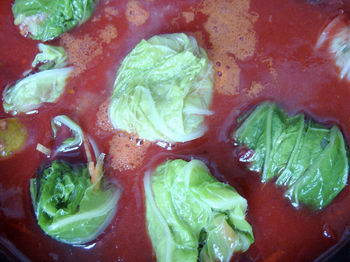 Debra's Chalupsies (serves 4)
S T U F F I N G :
- 250g ground lamb
- 4 coarsely chopped cloves of garlic
- 4 spring onions, chopped
- black pepper freshly ground
- sea salt
- 3/4 large (type 'winter peen') carrot, freshly grated
mix sloppily
C A S I N G :
- 1 napa cabbage
chop off the bottom and let the leaves fall, stems first, into a pot of salted boiling water. let them slide in all the way or help them do so.
fill a bowl with icy cold water and with some tongs pick the leaves out of the boiling water. if you do this in one straight go - it takes 3 minutes. the leaves should be very bright green in colour.
S A U C E :
- olive oil
- 2 yellow onions
- 2 tins of pomodori pelati (just like in the old country)
- the rest of the grated carrot
- 1 grated raw beet
- the juice and zest of 1 lime - plus throw in the carcasses
- 1 handful of dried apricots, chopped coarsely
- 1 handful of prunes, pitted and halved
- 1 handful of smashed juniper beries
- sea salt
- freshly ground black pepper
- 4 bay laurel leaves
>>>>>>SECRET INGREDIENT>>>>>SECRET INGREDIENTchalupsies completely and reheat the lot in 4 hrs but preferably the next day. If you do this, ? the WAIT thing ? everyone will burst into tears of elation when they take their first bite of chalupsie. I swear.
debra at 11:15 | | post to del.icio.us
6 Comments »