Permaculture in the Winter Kitchen Garden
December 11, 2008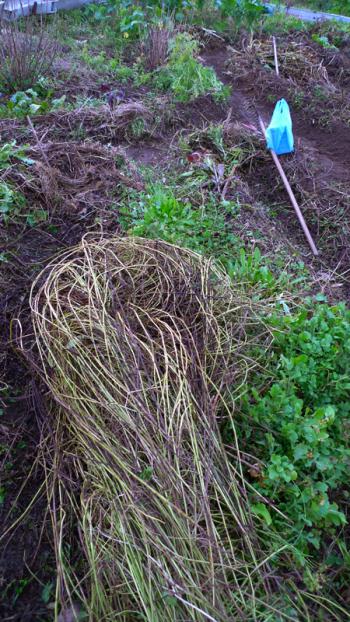 'Felting' the leggy bergamot mint now lining the canals into a fragrant mat of living mulch
A missed flight back up to the Polar Circle from St. Etienne presented me the opportunity of a few days down south. I took the time to enjoy some rejuvenating familialarity and to tidy up the garden for winter. It never ceases to amaze me how efficient permaculture gardening is in the face of repeated absence and outright neglect. In just two afternoons I had more or less prepared the garden for the frosty days of winter, tucking the abundant edibles under living green manure plants and blanketing their beds with the now-rotted mulch harvested from the paths.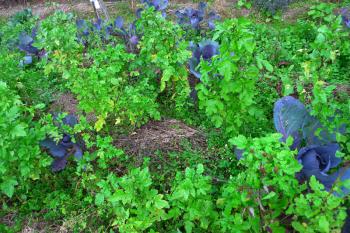 Image colours and lighting UNretouched
In the lower garden my task consisted only of harvesting the rocket-filled the canals and cutting a cabbage or two for choucroute from the beds. The mustard green manures had grown tall and seem to be protecting the low-lying rocket, coriander and curly-leaf parsley from the nightly frost.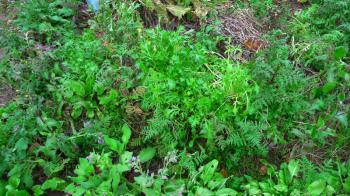 Copious mizuna lettuce, sorrel and borage amongst phaecelie green manure
In the coldest corner of my upper garden, sorrel, mizuna lettuce and borage (and an invisible cassis) are burgeoning amongst the phaecelie green manure. The adjacent bed (not pictured) grows the most exquisite lacy purple salad mustard, protected from the cold by horseradish and rhubarb. Can you believe that I actually harvested rhubarb in the chilliness of November!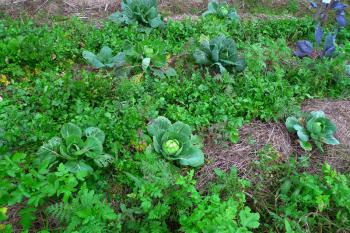 Permaculture perfect for in absentia gardening
Although I left the garden on its lonesome since mid-August, a timely planting of crop and green manures, strategic mulching and permaculture frost protection meant that the garden was full of food at the icy end of November. If the hardy green manures continue to protect against the frost, we'll be eating fresh leafy greens, crucifers and brassica at midwinter and into the Hungry Gap.
More information on growing your own mulch in-situ here. I've been experimenting with building soil productivity, tilth and keeping weeds at bay by growing specific varieties of alfalfa, phaecelie, and mustard on the paths, and mints and clovers in the canals. Before leaving for a few months, I seed the paths with the GMOs (green manure organisms ; ) and upon my return I either pull or cut back the growth, and lay it back down on the paths where it gets trampled into a 10cm mat.

Whenever I need a big blanket of mulch for the beds, I just pick up the matted mulch from the paths which has more or less felted itself into a large bed-sized swathe, and lay it upside down on the beds. This mulch blanket keeps the beds free of weeds, helps prevent evaporation in the summer months and in the course of the season rots into something nutritious for the plants that I grow in between. This is turning out to be a very effective and productive method for my in absentia style of permaculture gardening.

This is what my garden looked like before I started seeding the green manures on the paths and in the canals. Grass weeds everywhere! It has taken me two years to develop this green manures method such that there is a real synergy between me and the plants. I've experimented with different green manures, and here are my conclusions:

Alfalfa can grow anywhere and is extremely hardy. But beware: one single plant grows to one cubic meter above ground with 10cm thick roots going down 1 meter. Once you plant this, you will not be able to get rid of it, so plant it judiciously. Alfalfa will 'weed' itself if you just let it get big enough so that you only have a few plants growing in your garden. Just keep it cut back to the bone and you'll have lots of fibrous mulch material. As a plant, alfalfa is excellent for creating a moist micro climate. The growth, cut and 'felted' is excellent for rotting into mats to improve soil tilth. Yet I would not recommend planting alfalfa unless you have crap, untillable soil because it is very difficult to eradicate if you should want to plant something else in its place. It would be perfect for converting large areas with poor soil tilth (soils so compacted that you can't cut into them with a pitch fork) into something usable within the course of a year. Alfalfa produces beautiful purple and blue flowers that the bees love and working in and around it smells magnificent.

Mustard is easy to grow, is edible and is easy to pull, a quality that I value in a green manure. As a ground cover it is not as dense as alfalfa or clover, but because it grows tall and leggy, it will protect plants growing in between it from frost and provide dappled shade and keeping the micro-climate 40 cm under the plant canopied and wet. It does not produce huge amounts of biomass for mulch, but it flowers nicely and I will continue to work with it.

Phaecelie is easy to grow, produces pretty purple flowers in the spring and is very easy to pull. As a green manure it has many of the same qualities of mustard but it locks in (soil) moisture better (is a 'fatter' plant). As far as I know, it is not edible but I will continue to work with it.

Ground clover: This was already growing in my upper garden canals and I tried to eradicate it a few years ago. Fortunately I was unsuccessful. This is a great green manure for the beds where it fixes nitrogen in the soil and grows very densely, keeping all other weeds at bay. When you want to plant a bed, pull the clover (which will return, don't sweat it) and make space for your desired planting. This is an excellent roaming ground cover for areas where 'roaming' is appropriate - in places where you want to eradicate grasses, for example. It flowers and smells nice when you walk on it, making it perfect for lining irrigation canals.

Soybeans: For the life of me I can not get these to grow in any useful way. Although soybeans are supposed to be great for nitrogenating the soil and I of course DREAM of edamame parties in the garden, my plants never grow higher than 15 cm high. It is possible that soybeans don't do very well with my absence, and need more encouragement in their early days. This year I will try a more emotionally hardy variety.

Mints and bergamot: Officially these are not green manures, but I've been growing these plants in my irrigation canals where they are prodigious, attract bees and smell fantastic when you so much as brush past. In the winter you can cut them back and they will grow anew in the spring. This year I'm experimenting if the leggy growth that I cut off these plants will re-root in my lower garden, where I am waging a 4 year battle against an aggressive Jerusalem Artichoke. My hope is that the bergamot/mint will take root and densely discourage the topinambours from taking over. Mints are easy to remove should you want to plant something else, they smell wonderful, and shade the canals and beds, preserving the moisture. Bergamot in particular is extremely fragrant and when you're around, you can keep the plants you've planted in canals or on the paths under control by just treading on them. Perfumed steps!
debra at 13:26 | | post to del.icio.us
No Comments »