The Wild Boar Thing
November 7, 2004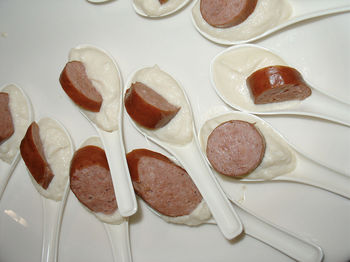 It was the leitmotif, right down to the marrow. For the 5th annual Museum Night (Museum N8 and pronounced Museum Nacht) Mediamatic hosted a salon including presentations by Esther Polak (locative media MILK), MIT's Kelly Dobson with her Blendie, (a blender that grinds to the gutteral), Henk Boverhoff's wild boar charcoal drawn dresses, Rob van Kranenburg's wild ideas, and the RE-launch (until you re-learn) of the Culiblog at it's BRAND NEW DOMAIN - right heah, right now, by the author of this very culinary weblog.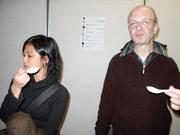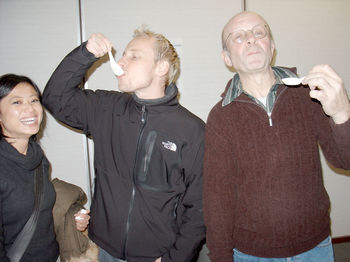 In the above pictures see Paul Groot enjoying a bit of wild pork. I see his smile and I feel the urge to feed him every single day of my life. (Maar ja…)
Kelly Dobson operated Blendie, her blender tweaked to listen to growls and gutteral emissions of the operator. Together Blendie and Kelly helped make the classic Celeriac Purée satiny smooth. I served it with slices of wild boar smoked sausage (after a fashion). Customers could buy the dish per spoonful for a measly euro.
Celeriac Purée (serves 8 - after a bracing day of iceskating or woodchopping)
1 celeriac (also called celery root)
1/2 ltr wholefat milk
250 ml cream
3 knobs (!) of lightly salted butter (demi sel)
salt
pepper and freshly ground juniper berries to taste
In a fat-bottomed pan put the milk and cream on the lowest possible flame. Peel and cut the celeriac into 1cm cubes (brunoise) and add it to the milk and cream mixture.
Remember:
DO NOT SCALD THE THING THAT MUST NEVER BE SCALDED.
DO NOT CURDLE THE THING THAT MUST NEVER BE CURDLED.
Therefore…
DO NOT COVER THE THING THAT MUST NEVER BE COVERED.
Cooking the celeriac takes an hour, get the hell out of the kitchen, try to forget about it and go do something meaningful.
When the celeriac is tender blend it together with the milk and cream adding butter and salt along the way. The mixture should feel satiny in the mouth. Sprinkle with freshly ground pepper and juniper berries. This is the ultimate comfort food especially when served with 1/2 an organic smoked pork sausage. It was certainly a great way to break the vegan fast I've been on the past week.
debra at 14:22 | | post to del.icio.us
6 Comments »