Paan virgin spits like a girl
March 15, 2005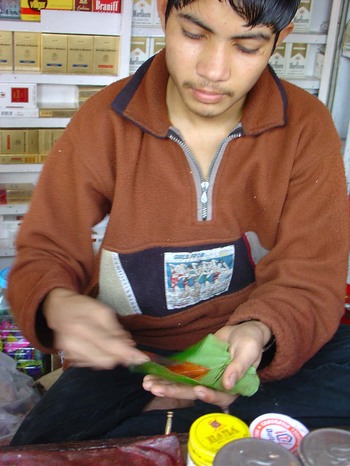 Everywhere in Old Delhi, on every cornerpost of every building there is a terracotta haze. For a while I thought it was just the build-up of iron oxide dirt and dust - and so much of the architecture (for example the Jantar Mantar observatory) has this colour. But after a few hours of walking around I saw a few fresh splotches of red and realised what it was. Paan spit.
Paan is a 'digestive'. A leaf, painted with all manner of spices, flecks of gold leaf, sugar crystal and proportedly even opium. You take the leaf roll in your hand from the paan-wallah who has lovingly prepared his special version from 20 or so fine tins of ingredients and ingest it like chaw, I think. This morning, before the coffee I tried my first chew.

What a timid taster I was, and this was entirely ridiculous because PAAN IS GOOD. Paan tastes like perfume and of delicious spices and sugar, bitter, every now and again a bit of sour. Riding around in a rickshaw in Delhi, between whiffs of exhaust and… well let's just say mostly exhaust, you get a whiff of heavily perfumed air. That's what paan tastes like. Delicious. The texture is as grainy and juicy although every paan is different.
And the buzz? Well, I notice a slight tingling in the back of my throat which is probably clove related, and the mind-altering quality is less than that of a cup of coffee. Of course I'm immediately interested in getting into something a bit heavier. Next time I'll attempt a truly peaceful savouring of the paan and will be working on my spitting technique. It turns out, surprise surprise, I spit like a girl!
debra at 6:57 | | post to del.icio.us
2 Comments »
Aaaaa, ya ol' paan spitter.

You sure that was cloves tingling in yer throat?

Comment by Dr. Biggles — March 16, 2005 @ 22:31

I do some healthy slow-read whilst waiting for the internetconnection to appear. Which won;t be for a while but I couldn;t resist reading yer bloggy. Sounds such great fun being there!

Comment by Kristi van Riet — March 18, 2005 @ 13:01