Brain Food
January 20, 2005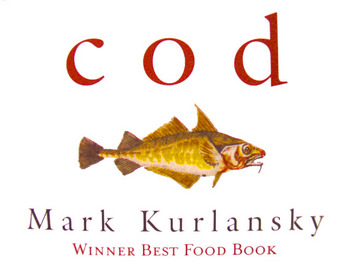 This terribly sad but well written book by Mark Kurlansky is a gripping history from the perspective of the cod. Kurlansky tells how fishing for this gadiform has deeply affected the wealth and development of many nations and technologies. I'm thinking the Flounder by Gunther Grass that I read back in the day but even more I'm thinking Fish Story, the mega-artwork by Allan Sekula, about the 'sweatshop called the Pacific'. (Sekula's visual history Fish Story was part of the the last Documenta XI in Kassel. One photograph in particular gave me goosebumps. You see a ship painter giving the Exxon Valdez a new name…fishy stuff.)
It turns out that cod in the form of stokvis (wind dried cod) turned out to be some good thinking-man's protein for the Norsemen. That extra portable brain-power enabled them to encounter New Foundland in 1000, where they also encountered the Beothuk People who had already discovered it and were not enamoured with the idea of sharing their space with the pink and hairy people from across the puddle.
Basques added salt to the stokvis recipe to make salt cod increasing the quality of the preservation and enabling Basque fishermen to to travel even farther - to the mouth of the St. Lawrence river. When explorer Jacques Cartier got there raring to claim his 'discovery' he encountered almost a thousand Basque fishing vessels. And a bunch of angry native Beothuk people getting pissy about the incessant attention.
Cod is inextricably tied to land (to dry it) and salt (to preserve it) and Salt is in fact the title of another one of Kurlansky's wonderful books.
debra at 20:54 | | post to del.icio.us
3 Comments »
So, do you eat cod? We did yesterday… I know that it is almost extinct. And we have tried the Norwegian dried version, which was a lot worse than wind dried reindeer.

I eat cod but feel guilty for doing so. I have never made saltfish cod but would like to try but know that that would also make me feel guilty.

I adore reindeer meat, especially the dried kind. Very thinly sliced and served with this wierd warm fatty joghurty sour reindeer milk stuff. Delicious. I ate it every day during a holiday my family had in Scandinavia.

Wow! Yes. I also love it. Will cook reindeer steaks tomorrow for the Dutch family and, as a desert, oven-warm Lappish cheese with cloudberries and cream. It is/was Sanna's birthday.

Comment by MA — January 22, 2005 @ 23:25