Cooking Challenge, Pôts de Crumble
February 7, 2005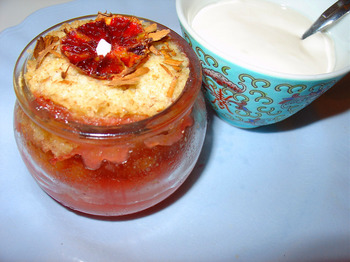 In French that's pronounced poh and the term can mean everything from a pot to piss in to a pot to plant some blood orange apple crumble in. Recycling fool that I am, these pôts originally contained storebought creme caramel but serve as excellent ramekin substitutes.
This past weekend was the Paper Chef Challenge, a little game some food bloggers like to play not dissimilar from the BBC television show Ready, Steady, Cook. The group agrees to use a group of ingredients in a recipe over a finite course of time. Wheat flour, cinnamon, blood oranges and creme fraiche, with extra points for using broccoli, chorizo, stale bread and something else. After a botched batch of stale cornbread French Toast (which in Dutch amusingly translates into a dessert called Turning Bitches), I decided to do something very un-Debra and stick to the menu.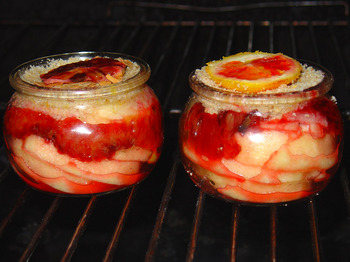 Desserts based on the apple crumble principle have always been my back-up dessert. I actually never eat dessert but perform it exclusively when I have guests and consequently dot dot dot. The blood oranges in this dessert give it extra tang, for those of us that truly don't have a sweet tooth.
One thing - the only kind of orange I like is a blood orange, and I use every single part separately.
Another thing - there are many sorts of cinnamon but for baking only Sri Lankan stick cinnamon will do. Ignore the dried pre-powdered kind and buy a proper stick of very thin bark. The thick stuff is for making meat stews anyway. You pulverise the cinnamon into splinters between your fingers - and there are few things finer than biting into a cinnamon bit, an explosion of flavour reminiscent of the RedHots candy of my childhood.
Oh and another thing - Whole meal chappati flour 'is not just for hippies anymore'. This finely ground wholemeal is definitely light enough to use for baking.The trick is to work with a light hand and to not over-mix the thing that should not be over-mixed, in fact, to become light yourself.
Ohm and one last thing - Creme fraiche (d'Isigny) is best taken straight up, with a spoon.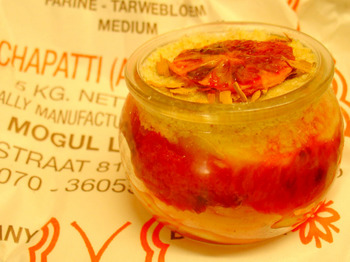 Pôts de Crumble (serves 6)
(for the crumble)
1/2 cup whole wheat chappati flour
2 tbs sugar
zest of one blood orange
5 cm of pulverised Sri Lankan cinnamon
pinch of sea salt to taste
2-3 tbs semi salted butter
(for the filling)
2 apples, peeled cored and sliced (I used Topaz because of their semi-sour flavour)
2 oranges (cut-sectioned, seem images)
0-2 tbs sugar (if you like it sweet - I don't)
extra cinnamon
creme fraiche
Preheat the oven to 375┬░F/190┬░c. Mix the dry crumble ingredients in a bowl including the zest of the blood orange. Chop the butter into the dry ingredients with the business end of a fork. Continue mixing the crumble with your fingers until little pea-size balls form more or less naturally. Set aside.
Peel, core and slice the apples. Section the oranges by lopping off the top and the bottom until there is no white showing and then shaving off the peel from the sides so that the membrane is cut through. It looks like there is a lot of waste - but you can use this juicy stuff for something else - like marmalade or candied peel. Hold the bloody orange in your hand and with the knife cut along the section to the centre and then back again - to remove the perfect little section - with no pith and no membrane.
Layer the apple slices and orange sections in fireproof pots 7/8ths of the way up the pot. If you want to add some sugar, do it now. Over the crumble bowl dump 1-2 tbs of crumble mixture into the pots and press it down HARD. Add some more and press again. Decorate if you like sith some of that orange 'waste material' and some more cinnamon, pressing it also into the crumblecrust. You have now sealed off the pots.
Place the pots in the oven for about 15 minutes. When done they will have puffed up and are piping hot ready. Serve with a little bowl of creme fraiche on the side and a teaspoon. Or a tablespoon. Or a ladle.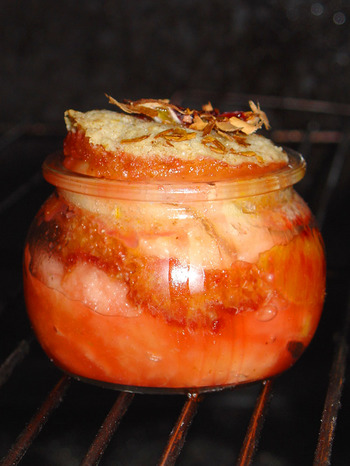 debra at 10:05 | | post to del.icio.us
3 Comments »
Somehow I can never read or hear about, or see, for that matter, a blood orange without thinking about the brit millah for my friend, Marty Segol's grandson. It is customary to bury the foreskin and plant something over it. Marty's son, Richard, selected a blood orange for the covering plant.
See what I mean?

Comment by dad — February 8, 2005 @ 5:02

What a sicko that Richard Segol is! He should have planted a pomegranate. On the other hand - what should you do with dead meat that's dear to you (placentas and the like). Throwing it away or asunder with the medical toxic waste just doesn't seem right.

So Dad, that's unfortunate about you and blood oranges.

For those readers that don't know what a brit millah is, it is the (Jewish) ritual circumcision of baby boys (up to 8 days old).

Due to the controversial nature of this subject I will remind everyone that this is a culinary weblog (and culinary oriented lifelog) and that I wouldn't welcome a discussion about brit millah here.