Turnip green & pumpkin
ohitashi style sushi
April 17, 2008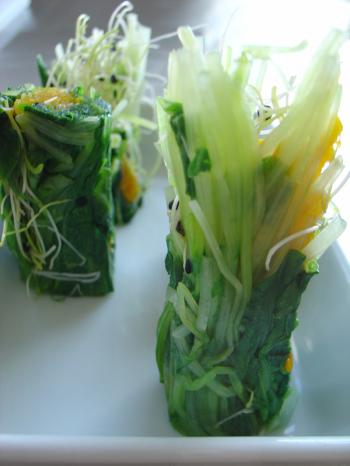 Rescued from the bin: forgotten vegetables transformed into a memorable vegan sushi
40% of all produce is wasted on the route from field to fork. The number is actually more like 60% and it's easy to understand how the waste becomes heavier if we buy industrially produced food from far away places, highly packaged and marketed. Which is why I don't do that. My approach to mitigating food waste is by buying less, (as if I ever had to bike to the store mid-week for some greens) and to prepare the leafy greens I get at the farmer's market into something 'salad ready' immediately.
For the moments when I still space out and don't eat everything I buy, beware my Happy Hour! I've been developing recipes for forgotten vegetables which will also be used in a soon to open snack restaurant (currently in fetal position) run on the principle of hyper-use. Hyper use of facilities, hyper-use of restaurant expertise and available foodstuffs. The project is called Lucky Mi Fortune Cooking and I'll be writing about it increasingly in the next few months.
Here is a vegan sushi recipe based upon the Japanese spinach ohitashi salad. It takes just a minute to make and it's refreshing, beautiful and of course adaptable.
Turnip green and pumpkin Ohitashi-style sushi
- 1 bunch of less than perfect turnip greens (forgotten vegetable syndrome)
- 1 hand full of various sprouted seeds, leek works really well
- 1 spring onion
- 3 tbs. steamed pumpkin, cooled
- fleur de sel or seal salt, ground to a powder
- wasabi paste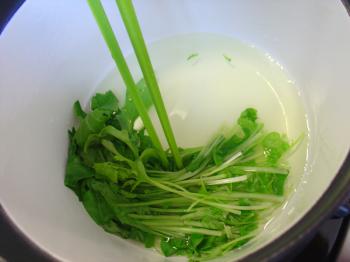 Blanch the greens for but a few seconds, plunge with cold water. Try to keep the leaves going in the same direction, as anal as that may sound, it's actually easier.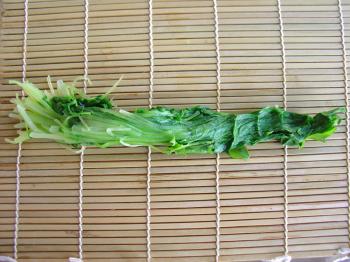 Wring out the greens enthusiastically.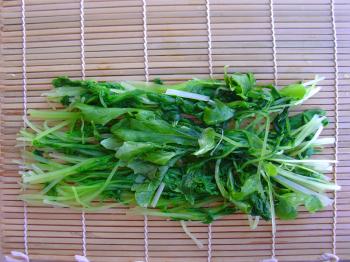 Spread out the greens on your sushi mat and sprinkle with salt.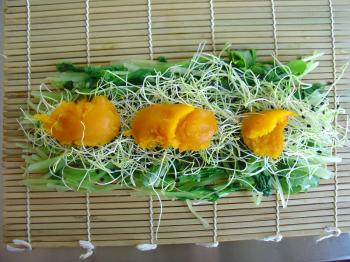 Place sprouts, wasabi paste and pumpkin on the matted green.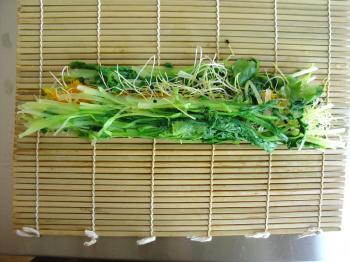 Delicately fold the matted greens over, to start the sushi roll. Use the mat to roll the sushi tightly. Squeeze and squeeze and squeeze… in moderation.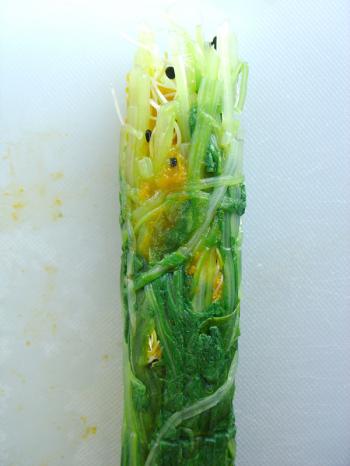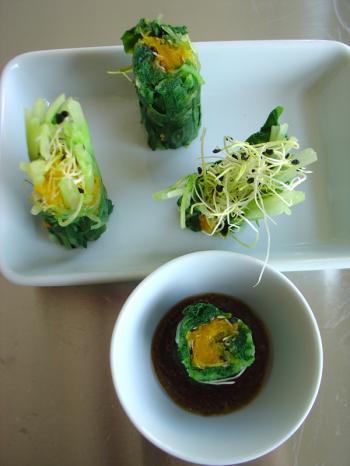 Turn out the sushi onto a cutting board and slice carefully. Serve in or with a puddle of soy sauce, or sesame dressing.
debra at 11:35 | | post to del.icio.us
8 Comments »