Do like Data does and bake me something
January 22, 2005
Yesterday Data baked a strawberry jam muffin declaring to her mother that she no longer wants to be a chef, but a chocolatier! This is probably because when Data was 3, way back in 1997, her mother's nickname for her was "Data Chocolata". Or maybe there's another reason.
Data, who now answers to the name Jasmijn, sent this lovely muffin (which I tucked into before I could get the camera out) with her mother to the History of Web Design hosted by the Piet Zwart Academie, the Institute of Network Cultures and the Stedelijk Museum and which took place amidst the grand views of Amsterdam's Club 11.
One of the speakers, Peter Lunenfeld showed us a slide of Paris, a Barbie-like doll designed in Silicon Valley to appeal to 10 and 11 yr. old girls - and whose profession was web designer! I won't elaborate further in this culinary weblog about this conference devoted to looking backwards and forwards but I did adore running into old friends.
And Data's muffin was excellent with my tea. Bedankt Lieve Data, perhaps in 10 years time when the web has evolved into something else entirely you will have become Data Chocolata La Chocolatiere!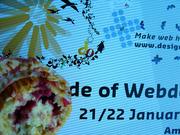 debra at 15:06 | | post to del.icio.us
No Comments »