Kitchen garden before Ice Saints
May 2, 2006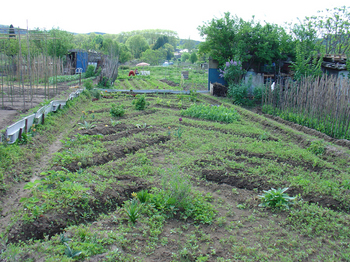 My kitchen garden on the 27th of April
Some people grow up with socialist folk songs, others grow up with Catholic weather knowledge. Until now, I'd never even heard about Ice Saints, but that was before I had a kitchen garden. Ice Saints refers to the 11th, 12th, and 13th May, the feast days of St. Mamertus, St. Pancras, and St. Gervais, purportedly the cut-off date for night frost. And the date after which you can start wearing cut-offs when you potter about with summer crops in the potager.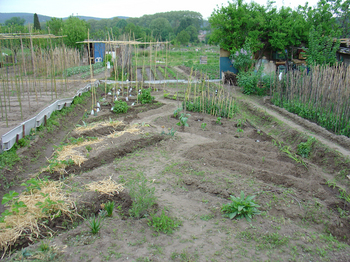 My kitchen garden on the 1st of May
Oddly, these May dates are the same from the Netherlands, way up in the Polar Circle, all the way down to Occitania. The cut-off town is Beziers, 100km from here, where its warmer and they have different days, different saints and they can grow meyer lemons outside. No cut-offs though.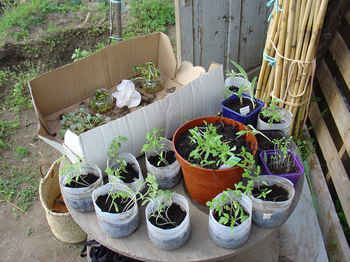 Tomato foetuses bracing themselves for a rigourous session of acclimatisation
I'm not having any of it, and even though it seems like Occitania lost a month of growing season this year due to the cooling effects of global warming, my sunflowers and lupines are growing visibly each day. But the men of the kitchen gardens are laughing at us Ladies-who-put-our-tomato-foetuses-out-early. Thursday, the gents will really split a gut watching me sow cantaloup, galia melon, cukes, luffah, gourds, pumpkins, spaghetti squash, courgette and watermelon into the bare naked ground. As a tribute to the Saints I'll repurpose some plastic ice cream containers into little hot houses. See ya later Propagator.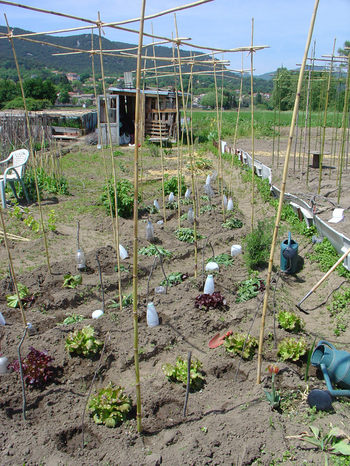 Lettuce and tomato section sorted

Covercrops before being plowed into seed beds
debra at 13:49 | | post to del.icio.us
8 Comments »