The vertical
kitchen garden
May 12, 2006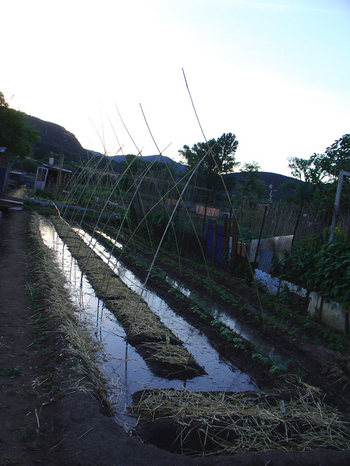 Spring planting is finished but before returning to the Polar Circle, I took this image of the bamboo framework for my vertical gardening concept. The plan is to train the wandering plants (melons, gourds, squash) to grow up the wide end of the frame, allowing them optimum sunlight, saving roaming space in the garden and eventually providing a tunnel of dappled light to walk through or linger in on hot August afternoons. An added benefit will be that my hanging calabash will grow with straight necks.
On the 'short end of the stick' side, morning glory will wind its way up the poles and produce blue and purple flowers. If everything goes according to plan (!) there will be yellow flowering plants climbing up the 'wide end' of the framework (left - in these images) and purple/blue flowering plants on the 'short end of the stick' side.
This idea is inspired by the Dutch architects MVRDV who also write about vertical farming in their book on density, KM3. I know, I know, they would never favour such vernacular materials or style.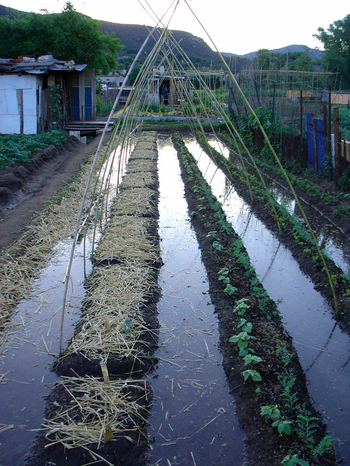 debra at 10:14 | | post to del.icio.us
2 Comments »
I read about vertical gardening and I am intrigued. I hope to see how this turns out.

It's finally the end of the school year and my advisor has yet to return my final draft of my independent study. The paper should be finished soon and if you're still interested in reviewing the paper, I'm more than willing to share it with you. Once I finish editing, I'll make a pdf file and upload it online.