Left leaves
March 25, 2007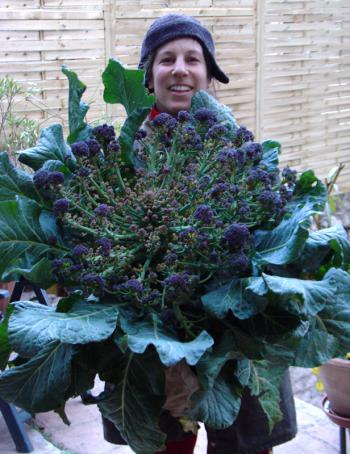 Author with 36-point fresh kill
Yesterday it occured to me that it's only because the garden was neglected for such a long time that we're able to enjoy these spring flower salads and everything-but-the-squeal brassica eating experiences. The romanesca shown above was at one time a compact light green pagoda and it was probably ready for harvest back in November. Now it has exploded literally beyond recognition into this beauty, and having endured several periods of frost, we're eating the sweet, longstemmed florets like asparagus, dunking them in homemade Bernaise and coreander mayonnaise.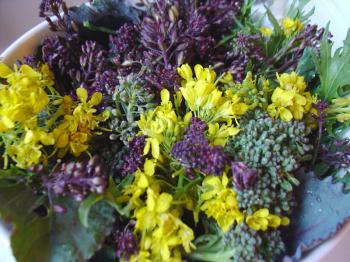 Mizuna, violet cauliflower and broccoli flowers with over the top red cabbage and broccoli leaves
The mizuna lettuce that should have been eaten months ago, may be flowering into seed, but it's still quite full of leaves, also sweetened by the frosts. We're eating the entire bush, flowerheads and all, like extravagant edible bouquets.
The kales are tender and sweet and a look around reveals more than 2 months of full-time eating ahead. And this from my scraggly little permaculture kitchen garden, supposedly in the Hungry Gap.
debra at 11:08 | | post to del.icio.us
1 Comment »