Monument of Sugar
May 9, 2007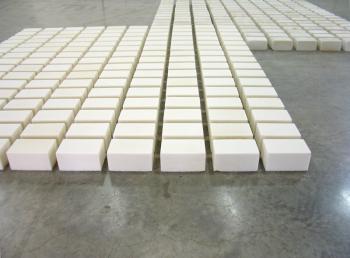 Secretly snapped photo of the installation Monument, now on exhibit at the Palais de Tokyo
Monument en Sucre is an installation by artists van Brummelen & de Haan documenting an artist attempt to avoid European sugar tariffs by re-importing European sugar dumped in Nigeria back into Europe as a work of art. The work is now on exhibit at the Palais de Tokyo in Paris. The accompanying booklet reports the artists' mishap-filled adventures of searching for European sugar in the ports of Lagos and which reveals the artists' engagment with the black-caped and mustache-twirling entity that is the international sugar (commodities) market.
The installation is beautiful in its starkness, a huge contrast to the more playful installation at the PdT by Michel Blaszy which, although also using the dynamic of 'entropy' involves lots of yogurt-washed walls, mildew, ramen and bird poo. The blocks forming van Brummelen and de Haan's grid are truly sugar, I know because I was visiting Paris that week with my parents, and a sudden adult-behaviour-overload caused me to lash out at the artwork and lick it. Faithful culiblog readers can contextualise my reaction by remembering that there was a time in my family that sugar was referred to as 'White Death', ironic considering sugar's connection with slavery, sugar could've better been referred to as 'Black Death', but that name was already taken.
But back to the work, Monument en Sucre is meaningful as an expression of an artist intervention with positively insane and protectionist trade policies. I don't know if it was intentional, but I couldn't help but think of the parallels between the commodiies and art markets.
Italicized text taken and then slightly altered from the Palais de Tokyo website.

Dutch artist duo Lonnie van Brummelen and Siebren de Haan use photography, writing, film and installations to explore political questions, ranging from the status of the artist to the economic consequences experienced by a country joining the European Union. The artists consistently raise political questions about the institutionalisation, particularly of art, thereby linking ethics and aesthetics.

For their ambitious new project, shown here for the first time in France, the artists have travelled from Poland to Nigeria researching the cost of sugar in the world. Intrigued by the derisory price of European sugar outside Europe, they decided to reverse the flow of sugar by buying the European excess cheaply in Nigeria and shipping it back to Europe. The result of this expedition, Monument en sucre [Monument of Sugar], is shown at the Palais de Tokyo with a 16mm film, sculptures made of sugar and a publication that follow the whole process of making the works.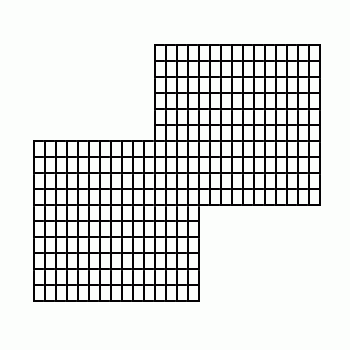 Author's impression of artists' diagram of Monument en Sucre by van Brummelen & de Haan 2007
debra at 13:24 | | post to del.icio.us
No Comments »