Hibiscus flowers
June 12, 2005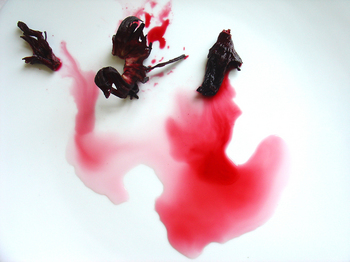 One million years ago, when I was a little girl, I had a piano teacher called Miss Pierce. She was an elegant and graceful woman, and ancient, as far as I was concerned. She was the secret girlfriend of Mr. Greenjeans, from the chilluns' TV show, Captain Kangaroo! We lived in a university town full of orange and date orchards on the edge of the desert, and Miss Pierce was probably one of the few people there that fulfilled for me, in her own weird and spinster way, the notion of what it is to be 'fabulous'.
I used to arrive at her strangely decorated house (entirely too much yellow) for piano lessons with my neighbour Michelle, who was even more of a tomboy than I was. The two of us played so rambunctiously that Miss Pierce decided to give us 'lady-lessons' at no extra charge. We agreed to the lady-lessons because we just loved listening to Miss Pierce blather on and on about table manners and gentlemen as we sipped hibiscus tea and nibbled girlscout cookies, all the while kicking eachother surreptitiously under the table.
Miss Pierce liked her hibiscus tea incredibly sour but I never added sugar because my parents had indoctrinated me to think that sugar was 'White Death', and I was trying to get my head around enjoying sour things. Hibiscus flowers in their wet form, alive and still on the tree, are forever connected in my mind with my father and his battle against vast herds of aphids on his hibiscus trees. But hibiscus flower in its dry form and as a tea still reminds me of my piano teacher, Miss Pierce, patiently battling to turn me and Michelle into ladies.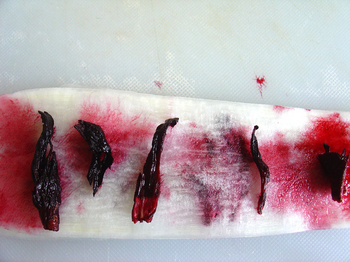 Today I'm experimenting with using hibiscus flower as a souring agent in a batch of quick pickles and a vegetable broth intended for a summer borscht although 12┬░c doesn't really qualify as summer.

Hibiscus daikon pickles
daikon radish, thinly sliced
dried hibiscus flowers
rice wine vinegar
coriander seeds
juniper berries
garlic, thinly sliced
salt
bay laurel
debra at 14:25 | | post to del.icio.us
10 Comments »