The arabised 'H' of EL HEMA
August 25, 2007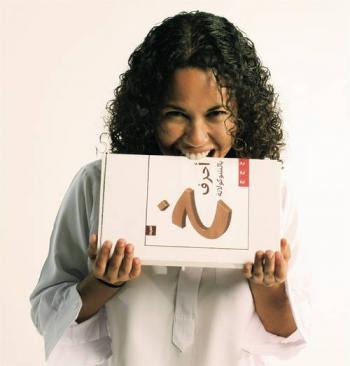 Joann digs EL HEMA packaging, image of the chocolate letter 'H' by Mediamatic used entirely with permission
EL HEMA, an Arabised version of the Dutch five and dime, will be selling chocolate letters for the disputably secular Dutch winter holiday Sinter Klaas. The Arabic letters are in one of the brilliantly designed companion fonts developed by the Typographical Matchmaking Project's designers. EL HEMA is a collaboration between the Khatt Foundation's Typographical Matchmaking Project and the Dutch cultural institution Mediamatic. Together they have been working with the project's young designers making an Arabised HEMA store (as an art/design installation). In the name of fuelling a positive and generative image of intercultural discourse in the Netherlands, Insha'Allah.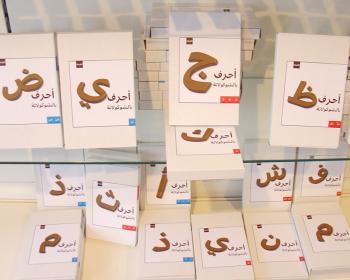 Get 'em while they're hot, but before they melt, EL HEMA's arabic chocolate letters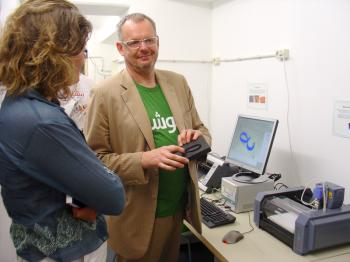 Willem Velthoven shows a Arabic chocolate letter mold produced in the Mediamatic FabLab, to the Amsterdam Councilwoman of Cultcha
The EL HEMA exhibition is open from August 24 to November 4, 2007 and you'll be able to buy a goodly amount of the EL HEMA products including the chocolate letters, hagelslag, tea towels, but also great street fashion, inspiring books and even household paint in a palet inspired by foodstuffs of the Arab world.
debra at 10:49 | | post to del.icio.us
3 Comments »
jamaar … hoe kom IK er nu aan? Ik bedoel, kan het worden verscheept? Kan ik bij iemand eenverlanglijstje neerleggen?

Comment by Kristi — August 25, 2007 @ 18:23

je kunt een bestelling plaatsen bij of jans of willem.

Comment by Debra van Culiblog — August 26, 2007 @ 18:48

hi

i want to know if i can have your chocolate arabic letters to jeddah (saudia arabia) or not
i have a shop sela a chocolate only it will open in 2 month

thank you
diana

Comment by diana sejeni — January 25, 2008 @ 3:25