On acting-out at dinner
May 20, 2008
Purple tablecloth, purple flowering chives and irises. Entirely too much purple at the dining table and an amuse comprised of an overly precious presentation of tofu, inspired my friends to spontaneously bust out a tongue-in-cheeky, anthroposophical pre-dinner recitation of grace. Holding hands.
Blessings on the blossom, blessings on the fruit, blessings on the leaves and stems, blessings on the root.
We peppered the rest of dinner playing 'Intentional Community' in which an exposure to hippy upbringing and culture provided compost for our niche humor. The fact that these particular friends actually do live in a (hippyish) collective made it all the more funny.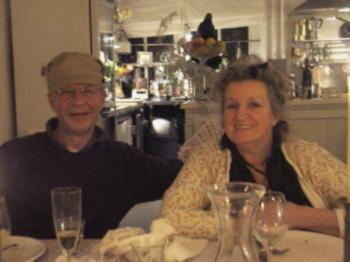 Intentionally crap fake family photography, Ma and Pa had only just met hours before.
A month before that and with another group of friends, we suddenly found ourselves at a Sunday dinner playing 'Ageing Urban Family' taking on ill-fitting traditional roles. Downward-facing dogme.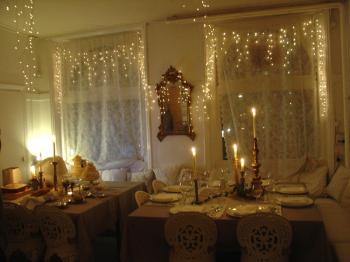 Interior for family dinner, players requesting anonymity
Interesting phenomena but despite the amplifications, it is sort of sweet & healthy that we're spending family moments sharing home-cooked meals together.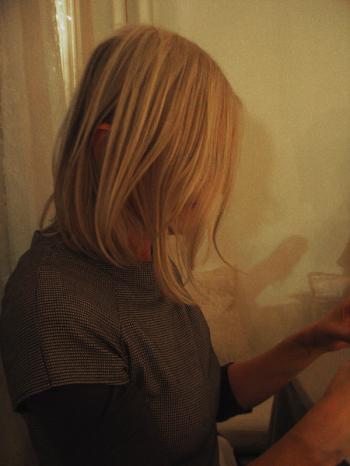 Sister, put down the cellphone.
The anthroposophical blessing referred to above was actually this one, recited by the Composer, in the role of Hippy from the Zonnewende Collective. In Dutch and below an English translation:
Aarde droeg het in haar schoot
Zonlicht bracht het rijp en groot
Zon en aarde die ons dit schenken
wij wilen dankbaar aan u denken
Ook de mensen niet vergeten
die bereiden ons het eten.
Loosely translated and with poetic license:
Earth who gives to us this food
Sun who makes it ripe and good
Dear Earth …. Dear Sun
By you we live
Our loving thanks to you we give…..
Also those for us who did prepare
We're thankful for this Sun and Earthly fare.
debra at 14:27 | | post to del.icio.us
4 Comments »