Pomtajer is the New Cocoyam
a friend of kugel and latke
April 19, 2007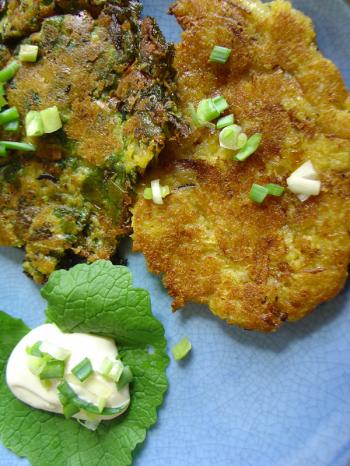 Food is synonymous with identity and culture. And in case you hadn't noticed, cultural identity is all over contemporary art these days. Amsterdam artist and culinary historian Karin Vaneker has been studying the dynamic history of the tropical tuber called the New Cocoyam, aka Pomtajer (say puhm tire).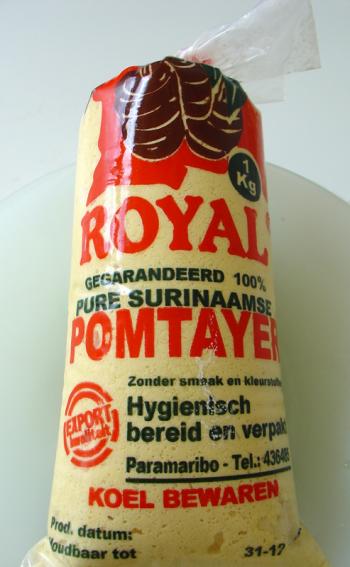 Vaneker is turning visual and experiential research into a most interesting project involving the tuber, famous Dutch Surinamese caterers and chefs (one with a Michelin star), other Michelin starred chefs, yet unstarred food designers and starry-eyed artists. Vaneker has been working in Amsterdam's multicultural Bijlmer with the Suriname community investigating the origins of recipes using New Cocoyam - in fact a very common ingredient if you're accustomed to shopping at Tropical food supermarkets. Vaneker has asked a group of us to experiment and develop a new recipes that are an expression of our own culinary heritage and she obviously expects me to produce some Jewish soul food.
(I have something of a reputation ever since my summer borscht brought a famous chef out of a coma. No joke.)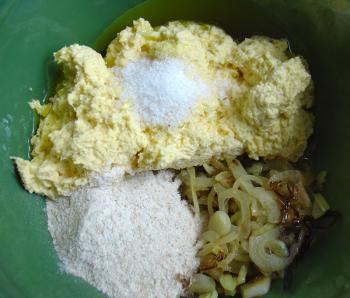 Suriname is a former Dutch colony (Dutch Guyana) once inhabitated by Surinen natives, but shortly after visits by Columbus and Vespucci, subjected to a bitter colonial period. From the mid 17th century, the Dutch were setting up sugar plantations for which they imported slaves from West Africa. By 1730 Suriname had 4000 plantations, 400 of which were in the hands of Jewish owners (another academic source wrote 112) and that commanded more than 50.000 West African slaves.
By 1791:
3,790 whites
1,330 Jews
1,760 free non-whites -it is my understanding that many of those were so-called 'father Jews'
around 50,000 West African Slaves
Happy Passover to You.
Happy Passover to Me.
Happy Passover, the holiday,
When slaves are set Free.
It's one thing to dive into Jewish potato recipes, it's another to be confronted with the recipes and dietary laws of religious slave owners. Everybody's gotta eat, but apparently back in the day in Suriname, a lot of food was still being imported from the Old Country. For the slaveowners this wasn't much of a problem, but malnourishment amongst the slaves was rife and they began growing native foodstuffs on allotments - mostly underground food like roots and tuber. Fortunately for the slave gardeners these foods were not yet fully embraced by the ruling class, and therefore ignored as agriculture.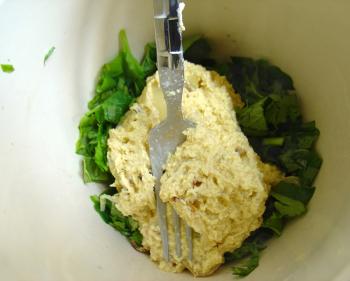 By 1970 the largest populations in Suriname were the Creoles (former slaves) and the Hindustanis (contract workers imported from India after slavery was abolished in 1863). Hindustanis arriving after the abolition of slavery found it easier to maintain their own culture and to this day, Hindustani-Surinamese cuisine is distinct and considered to be 'authentically Surinamese'.
West African ancestors, Dutch slave owners, native Indians, the Creoles are enthnically mixed but evidence and ethnic references are traceable in Creole Surinamese cuisine. Apart from the West African, Chinese, Indian and Javanese cuisines, Jewish culinary traditions both Ashkenazic and Sephardic influence Surinamese culinary heritage. The Jewish dietary laws (separation of milk and meat being the most obvious) and the weekly Sabbath (for Jews, not so much for their slaves) facilitated a dispersion of recipes when kitchen staff was taught to prepare specific food in specific ways for pious Jewish families keeping Shabbat. Today, 'broodje pom' a layered casserole with pomtajer and chicken is strongly reminiscent of an Ashkenazic potato kugel. For better or for worse, broodje pom is standard Surinamese buffet fare.
Temporarily laying aside my bias against carbohydrates, I'm experimenting using pomtajer as a substitute for the potato in Jewish recipes. The images of this entry are of my first latkes, potato pancakes/fritters, using pomtajer and bitter herbs, I mean Hungry Gap leafy greens. So far, so delicious, but I'd be really pleased if I could find an actual recipe from a Surinamese Jewish household from the 17th - 20th centuries to give that a whirl. Any suggestions?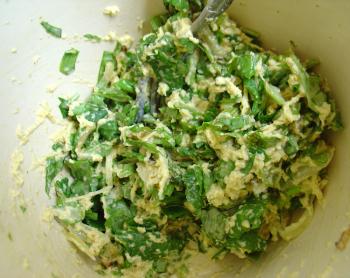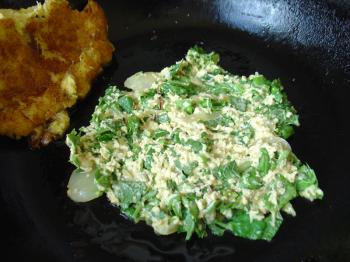 debra at 13:00 | | post to del.icio.us
2 Comments »
Not sure - but did you want a typical Surinamese Jewish recipe from Surinamese Jews?

I'm a Surinamese Jew. I can tell you that contemporary Jews in Suriname generally eat typical (kosher) Surinamese food, that is not obviously different from mainstream Suriname food, while omitting the use of shrimps, butter (in meat dishes) etc. Lots of rice, beans, fish, chicken and sometimes beef, noodles and roti as well.

A typical Surinamese festive dish that originated as a Shabbat-dish is Brown Beans with Rice.

Fry onion and garlic till golden, add salted beef in small cubes, and season with a stock-cube, nutmeg and black pepper.

When the beef is cooked through add tomato and tomato paste, and chicken pieces, with a cup of water, and a teaspoon of sugar or molasses. Give a stir, and cook until the chicken is almost cooked.

Add brown beans (dutch, from a can or else soaked-cooked dry ones) or alternatively white beans (like Heinz beans), and the same amount (as the beans) of water. Mix with some parsley or cilantro. Put a fresh hot pepper on top of the stew, and close the pan. Reduce the heat to the lowest setting and let the tastes melt together for hours.

Just before serving, remove the pepper, give a gentle mix (the beans will be very soft) with another handful of parsley or cilantro.

Serve over hot rice, with pickled cucumbers and hot peppers on the side.

Bon apetite!

Ryan

Comment by ryan — May 4, 2007 @ 13:34

I just returned from a trip to Amsterdam as a Pom addict. I need to know how to make it! Do you have any info on an English language recipe? Please, I need to know…

Comment by Mary — January 19, 2008 @ 1:26