Kids loved us,
loved our food
July 8, 2008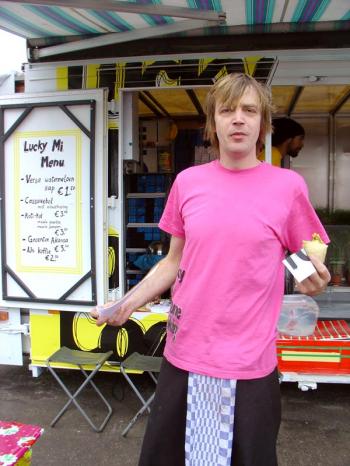 Chef Paul says 'Eat your pumpkin RotiRol'
Lucky Mi, purveyor of in-situ snacks, enjoyed its new-kid-on-the-block status and dished up some Surinamese fusion food in our spanking new snack laboratory at the Zuidoost Kwakoe Festival this weekend. We dodged tropical size raindrops, gave the lab its first ever test-run, and were ultimately quite popular amongst the under-sevens.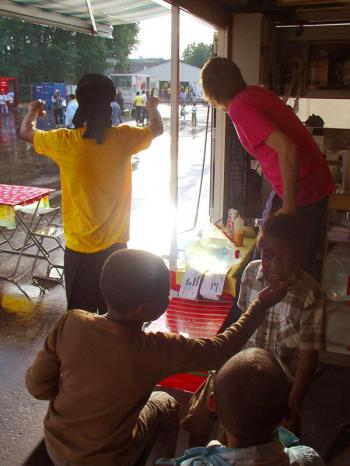 Raoul and Paul wait for the rain to subside while the gameboyz get physical discussing the children's menu.
Not wanting to waste one drop of local expertise, we put the gaggle of charming chilluns straight to work advising us on our Kinder Menu for next week. It will be called the Lucky PiKind and will likely consist of a tiny pom croquette, a teensie pakora-tje, & a banana beignet called bakabanaantje. Pikin means small or pequeño in Surinamese. The kids think the menu should cost € 1. We don't agree.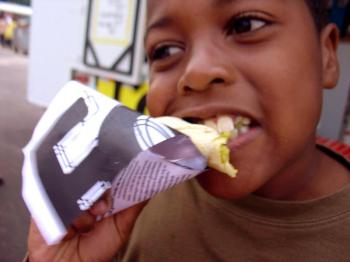 Lucky mouth model Jeevan tucks into a pumpkin Hofwijkse Roti Rol, his first taste of pumpkin ever.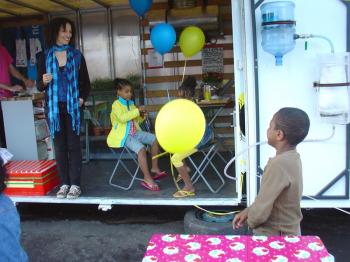 and Daniele moderates the discussion of the child's menu
The Lucky Mi Fortune Cooking Snacklab will be at the Kwakoe Festival each weekend until the 10th of August. The Kwakoe Festival is a perfect family activity where happily playing children will amuse themselves into the wee hours of the night whilst adults enjoy adult things.
debra at 22:09 | | post to del.icio.us
No Comments »