Taiwanese Bean Beverage
July 1, 2004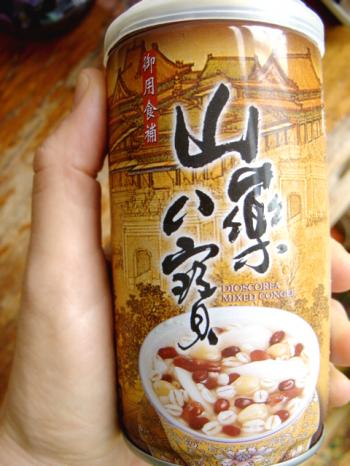 Yesterday Dan said that Latvians are lucky.
But today is another day and for breakfast I decided to serve up this Taiwanese Bean Beverage to my Latvian guest *Emils. Just a little good morning experiment. Emils remained cheerful throughout the tasting although shortly after fulfilling his task as guinea pig he dashed out of the house supposedly to buy a shirt - but I think he hauled off and got a bagel.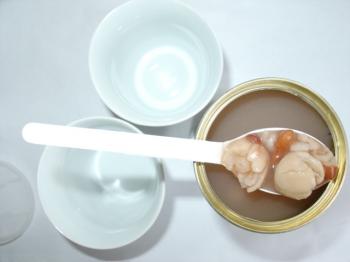 Discorea Mixed Congee ingredients: water, sugar, adlay(?), discorea rhizome (?), chickpeas, glutinous rice, red beans, kidney beans, millet, oatmeal, oats.
* Emils Rode is a Latvian artist currently participating in the show BREAKTHROUGH in Den Haag. This exhibition in the Grote Kerk spotlights artists from the new European member states. http://www.grotekerkdenhaag.nl
debra at 14:41 | | post to del.icio.us
3 Comments »
'discorea rhizome' sounds -and dyslectics might even read it as such- like 'diarrhoea'. No wonder Emils had to dash out…
Yes. I did have a beer and a glass of wine.
JT made beautiful lamb chops, juicy and tasty.

Comment by Kristi — July 3, 2004 @ 21:28

UPDATE PLEASE!

Comment by Kristi — July 7, 2004 @ 8:58

pardonnez-moi, madame!
mais ce n'est pas un periode culinaire cette semaine.

Comment by debra — July 7, 2004 @ 13:25