Here as the Centre of the World, in terms of food
June 3, 2006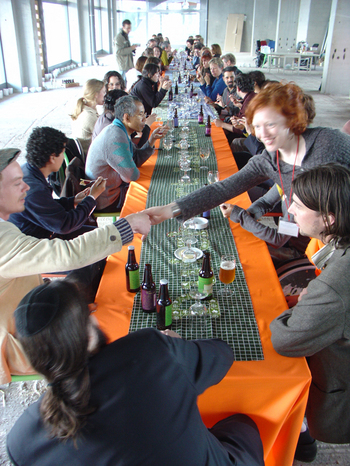 Here as the Centre of the World banquet with local food from Twente and Overijssel. Guests getting giggly on the bubbly.
A week and a half ago, my colleagues and I at the Dutch Art Institute (DAI), were in the throes of an international symposium on 'all things periferal' for artists and mediators. Illustrious guests from Overijssel and the 'rest of the world' were invited to discuss this (contemporary art) subject for two solid days in the Rijksmuseum Twenthe. Early in planning phase of this event, I decided that the symposium would be more coherent if, during the the event, we attempted to eat food grown and produced from within the province, a Twente tasting menu. In a huge gesture of over-confidence, I took upon myself the task of organising the symposium's food side, in particular a sit-down banquet for fifty, on the 23rd of May. All of the food for the banquet and incidental feedings would come from within the province of Overijssel, within a 60 kilometre radius of the event epicentre.
Here as the Centre of the World Banquet Menu
fork -local pickled beet with smoked herring, and strips of rhubarb
spoon - turnip green mash with goat cheese
knife - lumps of bread

Kruudmoes:

barley, buttermilk and fatback porridge served with ground up local greens including: ground elder (zevenblad), white deadnettle (dovenetel), kohlrabi leaves, applemint, spearmint, peppermint, curly leaf parsley, beet greens, spinach, sorrel and 'Roman' chervil

Hangop served with caramel sauce and berry coulis



Wines

from the Hof van Twente Winery

Meibok, Witbier, Vrouwe van gramsbergen and Blond beers

from the Mommeriete Brewery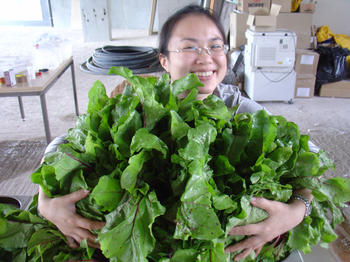 Tsui-lun embraces local leafy greens from 't Groene Spoor
Eat locally and seasonally! I say this all the time from behind my desk in Amsterdam. Each Saturday I go by bike to a popular and ancient farmers' market in my neighbourhood, spending at least 3 hours buying food and bumping into one friend after another. When I am in Occitania, I grow my own dang food and shop at a bustling farmers' market whose popularity has decreased little since its inception in the 12th century. Shopping and chatting takes hours, but I know all of the farmers that grow my food and I bump into my friends such that food-buying eventually becomes practical and efficient on many more levels than if it was just about food-buying.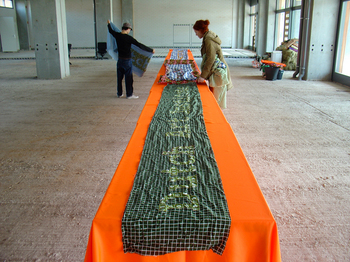 Viktor and Susannah preparing the tables
But I am not from the province of Overijssel, and it was initially difficult to find producers without the aid of all the time that I usuallly spend on developing relationships with the sources of my food. During the process of preparing for Here as the Centre of the World, I continually forgot how long it took me to find my favourite foodstuffs in Amsterdam and Occitania. That said, the experience of organising a meal from in and around Twente and attempting a Twents Hungry Gap recipe was rewarding in unexpected ways.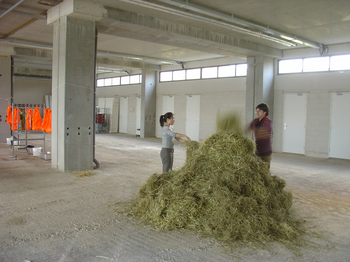 Tsui-lun and Gemis fluff up the pile of hay in which the kruudmoes will simmer for the banquet dinner
On the 22nd of May, chef Anne Zantinge, the rest of the kitchen staff and I started converting an empty shopping centre in the newly built Enschede borrough of Roombeek (Cream Creek) into a kitchen and banquet location. I cannot stress enough how much the success of this event was due to Anne's good-nature and professionalism, the hard work of all the student helpers from the DAI and AKI and of course, the DAI staff (mega-props to Hilly Podde especially and also to Corine van den Broek). Cooking in a location without cooking facilities (let alone easy access to water and makeshift electricity) required constant improvisation, which in turn required more than the usual dose of energy. Although the location was beautiful and I am thankful to have had the opportunity, the words, 'Never Again' still flash in my mind like a neon sign more than one week after the event.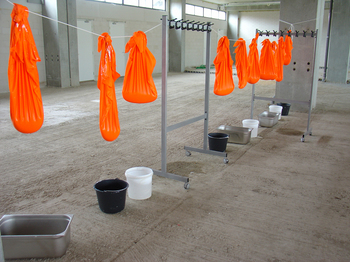 the Hangop Installation. Hangop is a traditional Dutch dessert made by hanging yoghurt in a tea towel for a day or so and later whipping it up with whipped cream, sugar and vanilla. It is commonly served with fruit or berry coulis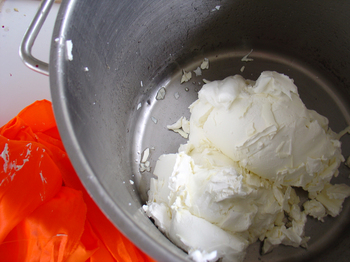 Hangop dumped out of the tea towel into a pan of vanilla syrup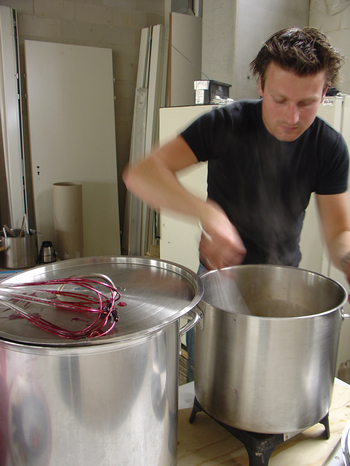 Chef cook Anne Zantinge prepares the black berry coulis and the caramel sauce
Anne and I spent several days perfecting the menu and testing recipes, but since there was no central place to order the products, Anne and I had to rely on word of mouth from within the farming community to find some of the producers. Even in 2006, not everyone has a website or a mobile phone and each menu change required hours of sourcing. For this simple event, searching out our own producers from a region not well-known to us cost Anne and I five man-days as opposed to the usual one or less. There's nothing sustainable about that, although I prefer to see this as an investment in relationships that I will use in the future, and/or that I hope the DAI will use, with or without my nudging.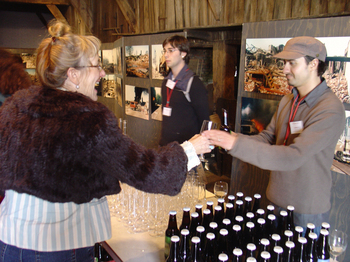 Symposium guest Gail Kirkpatrick is served a Meibok beer from the Mommeriete brewery by Viktor Valentinov in the Los Hoes, where we held a pre-banquet meet and drink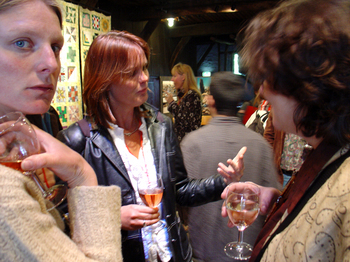 Sjanet and guest enjoy the local rosé while Machteld dreams wistfully of a full day of local wine tasting.
On the bright side, it's one thing to read about regional products in glossy mags and on well-designed websites, it's another when the farmer walks in the space in her overalls, mud still on her hands, and with a tooth-eating grin lays out an impressive array of leafy greens. She even weeded her garden to provide us with herbs she doesn't normally sell, but which we needed for our kruudmoes recipe. Or when the beer-brewer makes a special trip to deliver her award-winning beers in beautiful handbuilt wooden crates. Or the vintner, who came especially to reassure me that even the grapes of his delicious wines are a special short-season variety that were grown in Twente. Or the dairy man, whose popular enterprise exports to all over the Netherlands and Germany, yet he still made time to deliver in person buckets of yoghurt and buttermilk.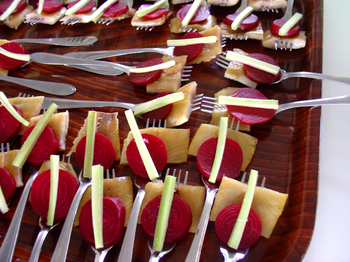 The 'fork course' was served with local pickled beets, smoked herring and strips of rhubarb.
Eating locally sometimes meant not shopping locally (although by bike + train) because Overijssel producers don't always have sufficient clientele in the region. Our goat cheese supplier produces his lovely cheeses in Deelden, but sells them in Amsterdam, where there is more of a 'market for it'. And I never did find out the provenance of the organic barley.

A group of illustrious banquet guests: AKI director Peter van Sonderen, artist and symposium speaker Jouke Kleerebezem, architect of the rennovated Roombeek Pi de Bruijn, artist, Balenfestival organiser and Roombeek artistic advisor Wilja Jurg and Rijksmuseum Twenthe director Dorothea Cannegieter.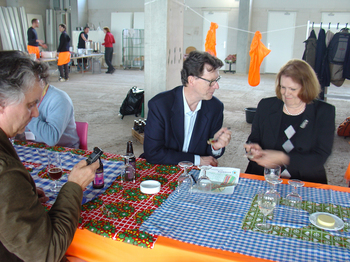 Pi de Bruijn and Dorothea Cannegieter grapple with the first course whilst Peter van Sonderen multi-tasks in multi-locations.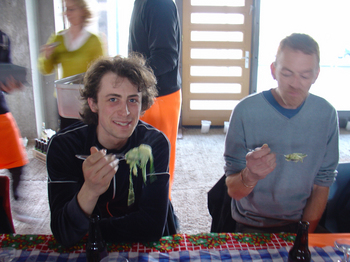 Illustrious guests from the Architects of Air, Steve de Jongh (BE) and Jon Gatt (GB) attempt to eat their turnip greens mash with goat cheese artfully served up by Corine van den Broek and Bani (out of picture)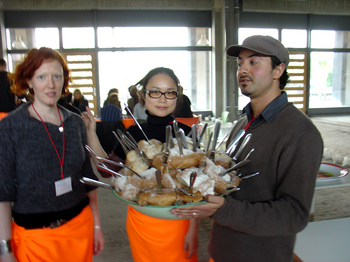 Susanna, Tsui-lun and Viktor get ready to serve out the 'knife course'
What impressed me most about the experience was the guests' reaction to the menu. I had expected at best a sort of encyclopedaic interest in the food that we presented, but even as I type this up now I get goosebumps. This is not just because the temperature up here in the Polar Circle refuses to go above 14 degrees (although we're less than one month away from bloody midsummer). This year we are 6 weeks behind season in agricultural terms. In the past, when we did not have the option of eating food that was out of season or that wasn't more or less local, this would have had extreme ramifications in terms of our diet and food culture. Hungry Gap 'fare' comes from period in which the winter produce is done and gone but the new Spring produce isn't yet ready for harvest. Although at this banquet we were truly priviledged to share a dinner together with company from all over the world, how dire it must have been to look out onto the fields and start plucking at weeds when there was nothing else to eat. However delicious and nutritious, and whatever its potential for chic-ification, kruudmoes is essentially horse food.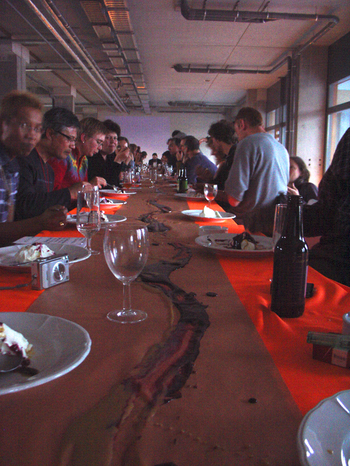 Illustrious guests eating in the dark
One of the conference guests, a very important Enschede local, came up to me after the banquet to comment on my choice of Hungry Gap fare as a taste of Twente. She told me that upon hearing that we would be serving kruudmoes at this banquet that she was flooded with memories from her youth, of course not all of them pleasant. Said illustrious guest remembers this dish from a time when it was eaten out of necessity. But at the end of the 'kruudmoes course' she was eager to communicate that she had in fact enjoyed the banquet's opportunity to readress her own food culture and location with sensitivity, and to share the experience of eating Hungry Gap fare from Twente with an international group of people many of whom have similar food cultures and memories. I can get very emotional about this reminder that eating locally is much more than decreasing foodmiles.
We are very lucky indeed when, through food, we can dive into wherever and whoever we are in the world.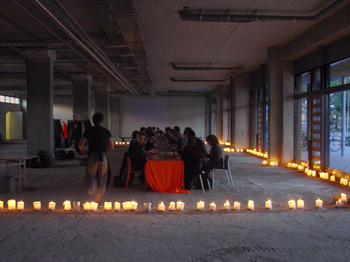 Banquet guests enjoying the meal, eachother and the space.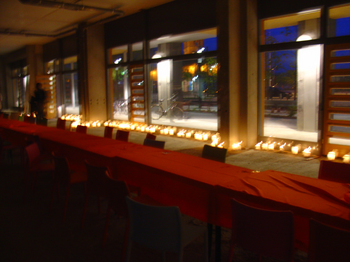 And suddently it was all over…
debra at 14:35 | | post to del.icio.us
No Comments
Sorry, the comment form is closed at this time.