Comfort Food
June 12, 2004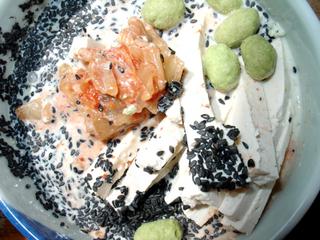 Since I was 14 I've been a huge fan of kimchi (korean pickled cabbage). And lately not a day goes by when I don't eat it. And lately I eat it with noodle-cut tofu, 'white cheese soup', black sesame seeds and wasabi peanuts.
I love the way the different textures of cabbage and daikon radish feel on my tongue, the prickling of the ferment, the mild, soothing tofu, the crunchy sesame seeds and the pungency of the wasabi peanuts. A pool of 'white cheese soup' (recipe follows) with spring onion provides contrast to the kimchi, balancing the flavours.
- fresh bubbling kimchi
- fresh raw tofu cut into 'noodles'
- a white cheese soup (recipe follows)
- sprinkling of black sesame seeds and wasabi peanuts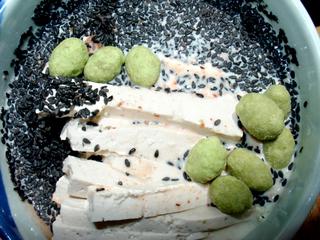 White Cheese (in a can) Soup
I often use this white soup as a foil to kimchi or as a puddle in which to float a 1000 year egg. Blend the following ingredients. For extra colour use a few leaves of coriander, not too many or you'll get specks of green and… I think that looks silly.
1/2 round sheep cheese in brine (drained)
4 sloppy dollops of kwark
4 big glugs of full-fat joghurt
1-2 spring onions (use everything, even the green part)
a dash of ume su (salted plum brine) if you need to up the salt
debra at 16:11 | | post to del.icio.us
No Comments
Sorry, the comment form is closed at this time.