Eating street food at home
March 19, 2005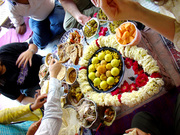 Losing the fear of street food in one simple lunch. The lesson is 'presentation is everything'. The Nomadic Banquet workshop participants dig in to street tucker. All of the dishes for this meal were gleaned from within a 200 meter radius of Nomadic Banquet HQ. It was the first time in a week that I witnessed one of the DAI students eat heartily.
(Please read more… )
debra at 10:45 | Comments (1) | post to del.icio.us
Delhi recycling, in all fairness
March 15, 2005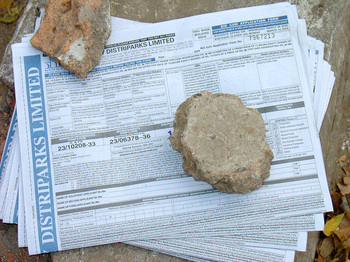 When is recycling not really recycling? When the recycled or re-purposed item never really had a purpose in the first place. These papers, have been left on the ground (location across the street from Jantar Mantar, Delhi), as far as I can tell, for no other purpose than to be repurposed. The image on the left is a stack of paper left on the street as an offering to the gods of the recycled chaat-bag-makers.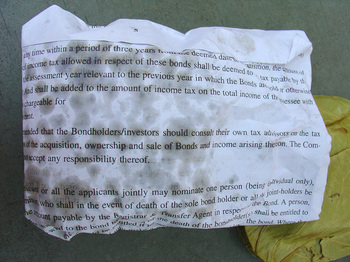 Packaging for chaat is often nothing more than a bag made from old newsprint or repurposed paper, or for the wetter stuff, a leaf plate. The bag pictured on the right was made from some terribly interesting literature about bonds. One can see the imprint of the deep-fried sweet peas contained within being absorbed into the paper making a pretty pattern.
debra at 13:07 | Comments (3) | post to del.icio.us
Paan virgin spits like a girl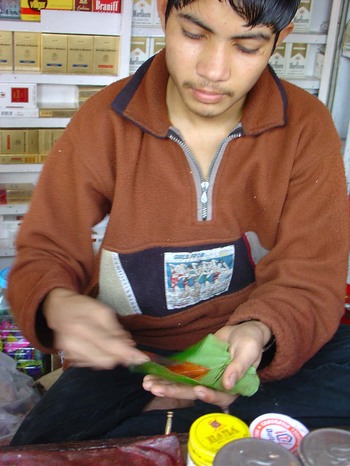 Everywhere in Old Delhi, on every cornerpost of every building there is a terracotta haze. For a while I thought it was just the build-up of iron oxide dirt and dust - and so much of the architecture (for example the Jantar Mantar observatory) has this colour. But after a few hours of walking around I saw a few fresh splotches of red and realised what it was. Paan spit.
Paan is a 'digestive'. A leaf, painted with all manner of spices, flecks of gold leaf, sugar crystal and proportedly even opium. You take the leaf roll in your hand from the paan-wallah who has lovingly prepared his special version from 20 or so fine tins of ingredients and ingest it like chaw, I think. This morning, before the coffee I tried my first chew.
(Please read more… )
debra at 6:57 | Comments (2) | post to del.icio.us