Golgappa,
1 of the top 5
most sexy things
you can put in your mouth
March 10, 2007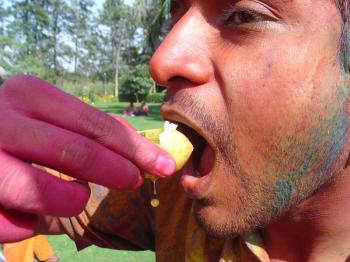 Try to imagine all of the sexy things that happen in your mouth. Now try to imagine a food that embodies these sensual experiences. You are imagining the Indian street food golgappa, unquestionably one of the most exciting things you can do to your body with food in public, a molecular gastronomic snack avant la lettre.
Eating golgappa is like a sweet and salty deep kiss exploding in your mouth, inside out and in slow motion.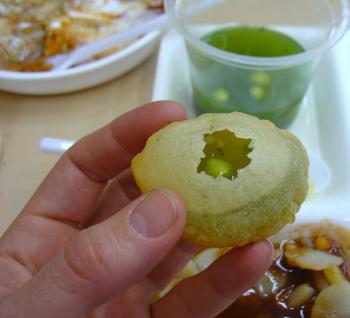 Golgappa is a delicate pastry bubble, one side of which is 'double dipped' and sturdy enough to transport some tangy liquid from hand to mouth for a 3 second maximum of non-bodily fluid exchange.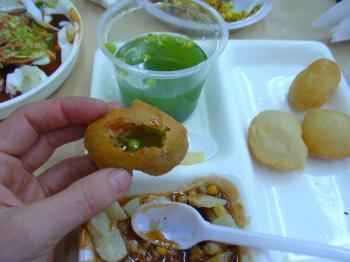 Wet and sticky, salty, sweet and tamarindily tangy
Golgappa is a snack most often served in a streetfood setting by a vendor who gets off on tweaking what normally is considered an acceptable relationship between server and snacker. You keep swallowing, the vendor keeps 'em coming and you have to beg him to stop serving you.
With your finger or the end of your fork, you poke a hole in the frail side. Fill the pastry with spicy tamarind juice and whatever else happens to be on your plate, put the entire bubble into your mouth, crunch and swallow. At the Doors9JUICE MediaWalla event, bartenders had spiked the tamarind juice with Northern European levels of vodka. Nasfuqndrovja!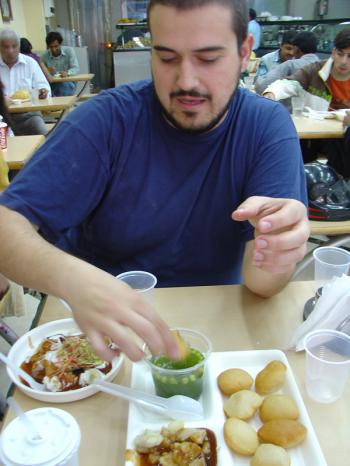 Scooping up juice with a golgappa shell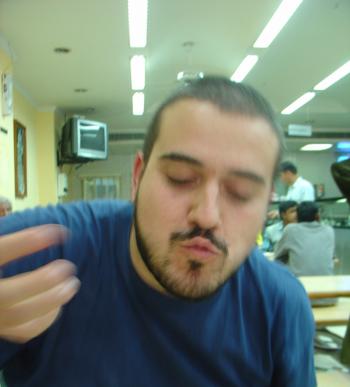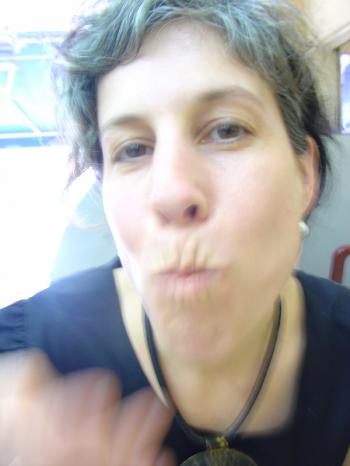 Normally I look more composed when sexy things explode in my mouth, but on a hot day devoted to urban agriculture there's only so much composure a girl can muster up…
debra at 13:29 | | post to del.icio.us
8 Comments »