Hash Shakes are sooooooooo passée
November 5, 2004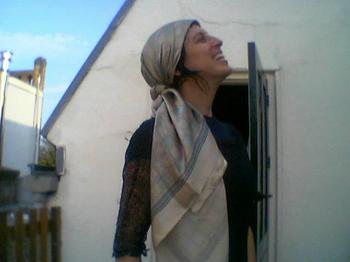 Well, what were You eating one and a half years ago?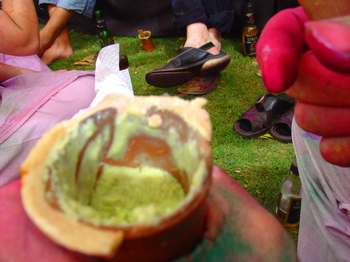 Bhang Shake (serves 3)
Aditya and Arjun (not their real names) dosed me with the vivid high of this sublime hash milkshake one and a half year's ago.
What were we THINKING!!!

Make thusly:
- milk (1 ltr.) (the higher the fat content the better)
- hash (1 centimetre - how much is that? I am so old.) (warmed and crumbled)
- sugar (to taste, substitute with honey or maple syrup)
- cloves (freshly crushed in a mortar)
- saffron (don't skimp on the saffron)
- cinnamon (the finer the better - pulverise with your fingers first)
- cardamom (open the green pods - grind the black seeds…. throw the pod husks in with your coffee beans for tomorrow morning)
With a staff-mixer in a tall container blend the hell out of all of the dry ingredients together with 3 tbs. of the milk. Slowly add the rest of the milk and make sure you work up a good head of foam. Ice is for pussies. This bhangshake gets you gradually stoned in a really gentle but increasingly psychedellic way. Good afternoon drink but don't mix with alcohol.
-=-=-=-=-=-=-=-====— - - - - - - -====-=-=-=-=-=-=-=-=-
A Dinner for Two Massively Gay Indian Babe Magnets - (Go to Sleep, Radiohead 2003, Hail to the Thief)
- japanese frozen landscape borscht with quickles and creme fraiche
- summer thai-spiced sfoglia layered with lime-pickled beets, mint mojo, rocket and cheese-in-a-can
- the burgus course :: white burgus, baby crayfish in butter, roasted new potatoes, tea egg and tea bearnaise
- saffron hang-op with mango blood-orange sunset granité, rosewater crystals and oven-dried blood orange crackers
UPDATE: View March 26, 2005 Holi pictures online here. (Images l to r: Author high as a kite in a handblocked silk scarf, a gift from Aditya, a fuzzy photograph of a traditional clay pot filled with bhang ice cream. The top of the ice cream is sealed with dough.)
debra at 20:58 | | post to del.icio.us
7 Comments »