Ladies who drink bubbles on a Friday afternoon
May 7, 2005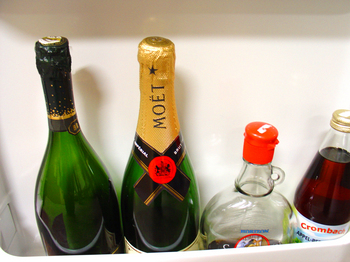 Good friends and exemplary ladies Quirine and Helena celebrate the opening of their new offices in the Amsterdam Post CS with some bubbles. Their film Celebration, a documentary about the Florida town of the self-same name and the desires of its quirky inhabitants premiered in January at the Rotterdam Int'l Film Festival. Ladies Jans P., Quirine & Helena and I celebrate until the happy hour develops into a pale liquid dinner. We speak about all manner of things unspeakable, (food) taboos, anorexia in terms of objects, and we're glad we got that off our chests! We devise plans to optimise an upcoming Belgian shopping trip but there's really no reason to name names unless they want to start sponsoring us. Life is fine when one's own life is grist for the mill.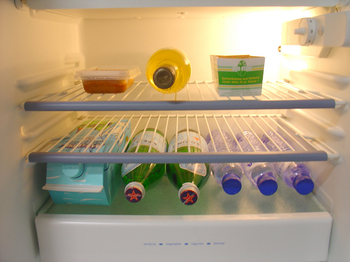 Monday evening 09.05.05 at 09.05 at Club 11, Mediamatic will host the Mobtagging Salon which will feature past works by our Ladies, including excerpts from one of my favourite of their films, The Tower, a spooky documentary about a castle inhabiting aristorcratic hippy family. That's my kind of people.




A peek in the Ladies' fridge reveals a diet fit for a Lady! Water and bubbles, bubbles and water. Some more water, white wine, radish sprouts, tapenade (but no crackers!), both berry and maple syrup. The milk is strictly for the coffee. We left no trace of an amazing apple pie!
The images above are from my 2003 lifestyle project, Ladies Gourmet Cycling featuring our Ladies of the Bubbles as glistening fashion donning New Riders.
debra at 10:26 | | post to del.icio.us
No Comments »