Food Force computer game: force-feeding inaccurate notions of the causes of hunger
March 17, 2006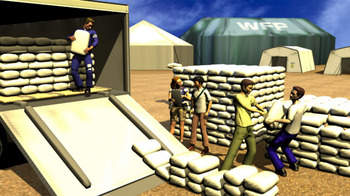 images courtesy of Food Force, &copy United Nations World Food Programme - all rights reserved
Two weeks ago I sat dumbfounded watching a French TV report in which journalism students practiced reporting a fictional national emergency. I couldn't help but think that what's cool about practice is that it makes perfect. If you practice having enough crises, you might actually get really good at having one! This hackle-raising report about teaching young adults to respond positively to crisis, just didn't seem to me like a simple exercise on getting prepared. The TV experience was absolutely colouring my thinking when I came across the UN's World Food Programme (WFP) website and discovered a new computer game for school kids called 'Food Force'.
'A major crisis has developed in the Indian Ocean, on the island of Sheylan. We're sending in a new team to step up the World Food Programme's presence there and help feed millions of hungry people.'
That's pronounced 'shay-lawn' by the way. The Food Force computer game is essentially a communications campaign of the UN's WFP, cleverly disguised as an educational tool. Although the game really does teach kids about mid-crisis food distribution, its purported goal, teaching students about the causes of hunger, is framed exclusively in the short term and completely ignores all of the long term causes.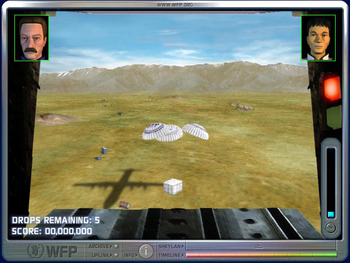 images courtesy of Food Force, &copy United Nations World Food Programme - all rights reserved
Food Force has six game tiers reflecting the basic elements of emergency food distribution: air surveillance (helicopter reconnaissance, counting clumps of roving refugees), energy packs (achieving nutritional and economic balance from rice, beans, vegetable oil, sugar and iodized salt), food drop (aim and drop those rations), locate and dispatch (Tetris-like global food collection), the food run (choosing the right route through hostile territory), and future farming (dealing with a combination of long term hunger solving factors).
Predictably my favourite game tier was 'future farming', where I was taught that paying people in food to attend job training programmes and so investing in the community, was the straightest path to community self-sufficiency and societal well-being. Together with the food pack nutritional assembly tier, this was the game tier with the highest educational value, going beyond point and drop and mouse dragging I mean racing.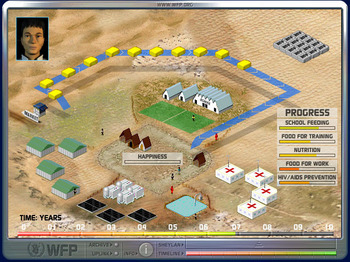 images courtesy of Food Force, &copy United Nations World Food Programme - all rights reserved
Food Force has a website chock-full with extra video, images and an educational package enabling teachers to work this computer game seamlessly into the curriculum. I pored over the WFP site in search of information addressing what I believe to be the long term causes of hunger and the long-term perspectives on solving the problems. Alas, I could find none. According to Food Force, hunger is caused by drought and civil war.
Of course I find no fault with the WFP's symptomatic relief efforts per se, nor do I see intentional evil with a communication strategy that illustrates this practice to children in the form of a computer game. But I do have a problem with placing this game in a curriculum that teaches children that the cause of hunger is simply drought and war. What are the some of the causes of drought? What are the some of the causes of war? What causes such a lack of food security that climactic fluctuations can take out several million people? Food Force offers no macro vision, and I do find fault with weaning children of the notion that food security is rested in global food politics. The macro vision of many commonly accepted causes of hunger, such as the small farm community-destroying effects of large-scale agricultural practice and the methods of monoculture, are left completely unaddressed by the WFP's computer game.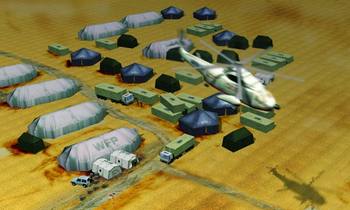 images courtesy of Food Force, &copy United Nations World Food Programme - all rights reserved
I often wonder if teaching children about hunger couldn't happen in a more nuanced way. Wouldn't it be more productive than training them to throw a little money at the problem? Well, maybe not with the 'throwing a little money at it' method of famine-control being so lucrative.
Tomorrow, I'll give an example of a solution.
I promise.
technorati tags: World Food Programme, Food Force, computer game, emergency food distribution
debra at 18:26 | | post to del.icio.us
2 Comments »
Hi, I just found your blog and it took my sleepeness away. great smile 4 you + lot of congrats,
I'll be passing by quite often.

Comment by mariana.rmtz — March 18, 2006 @ 5:45