Inside the secret gardens of our culinary elite
August 19, 2006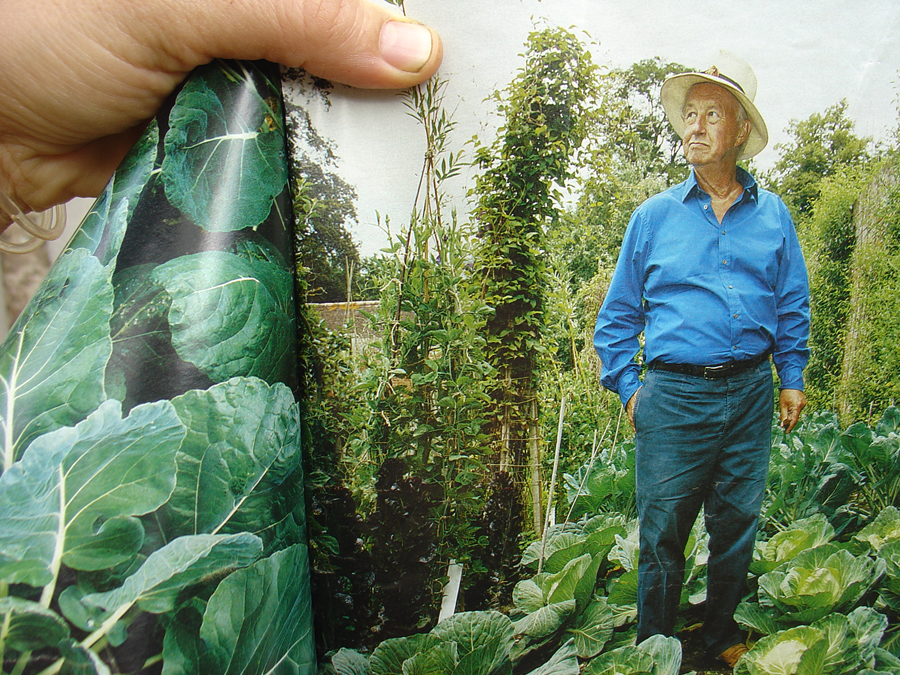 Photograph of photographs of Terrance Conran and his cabbages by Peter Dench at Telegraph Magazine

Last Saturday's Telegraph Magazine reported on the kitchen gardens of twenty-three of England's most 'reknowned' 'cooks'. From several versions of elaborate kitchen gardens, to modest collections of herb-filled terracotta pots, to berry bushes and stonefruit orchards, a goodly array of food growing is displayed in the most fashionable possible way. Not that there's anything wrong with that.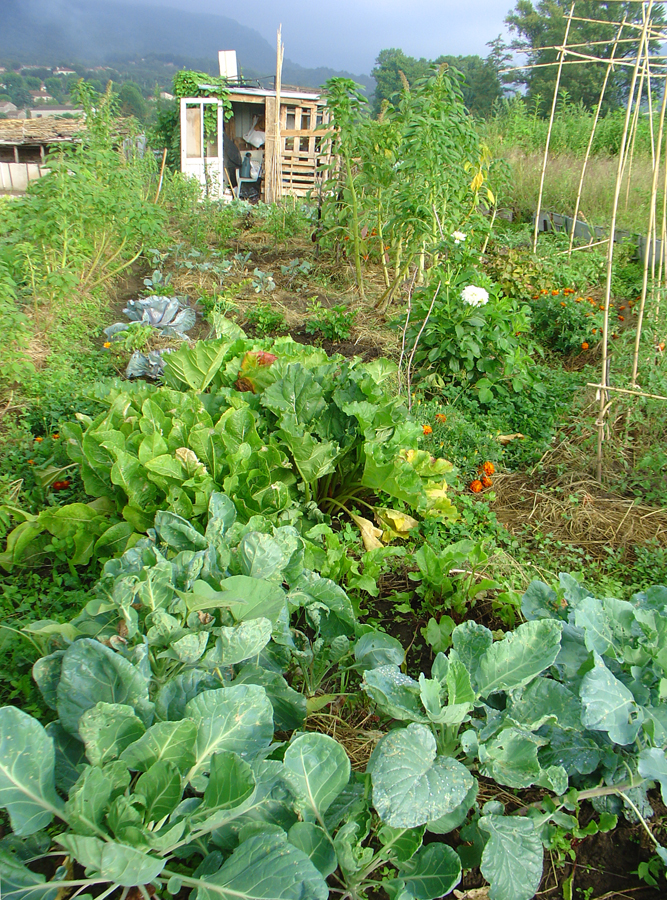 Debra Solomon's Occitanian kitchen garden
It was refreshing that the English culinary elite display a diversity of approaches to food growing and of gardening personality in general. Not that I need any reassuring about whether my garden is too wild or unproductive I mean organic, but because food-growing is so often portrayed as something that requires a great deal of expertise. Plants do tend to grow themselves and if you, your family or your restaurant don't need to survive off the fat of your land, it's delicious to indulge in a few years of pissing about, I mean finding your own style, I mean conducting some thorough active research and experimentation. Condoning this much diversity is an unusual and positive message from such a popular media source!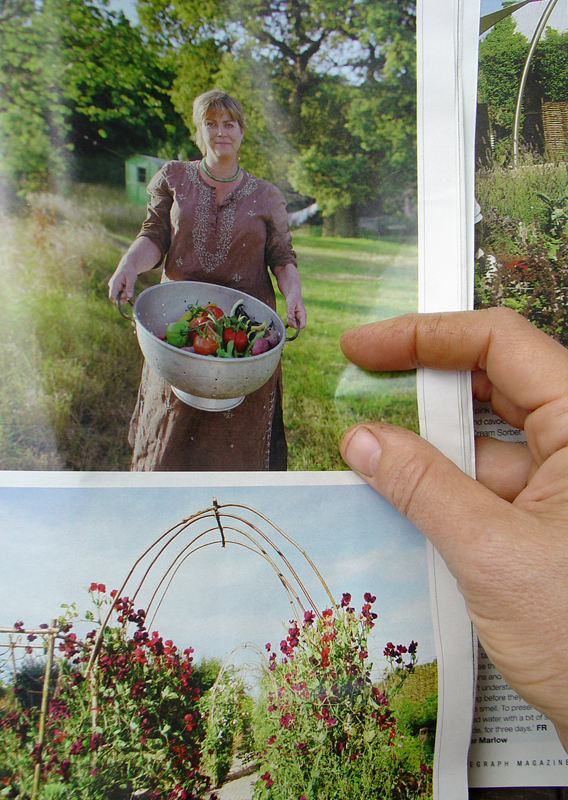 Photograph of photographs of Sarah Raven and her funky archway (that curiously resembles the culiblog vertical garden arch) by Tara Darby © Telegraph Magazine
But because I seem to be obsessed with growing my own and eating locally grown food (and using less petrol to grow and move food around), I couldn't help but read 'Inside the secret gardens..' from an energy descent point of view. Is the fear of Peak Oil creating such a positive trend towards food gardening that more and more fashionable people are being shown to do it? Or is it a chicken and egg thang; more and more people are affected by the imminent energy descent meme and therefore grow their food? Either way, bon courage.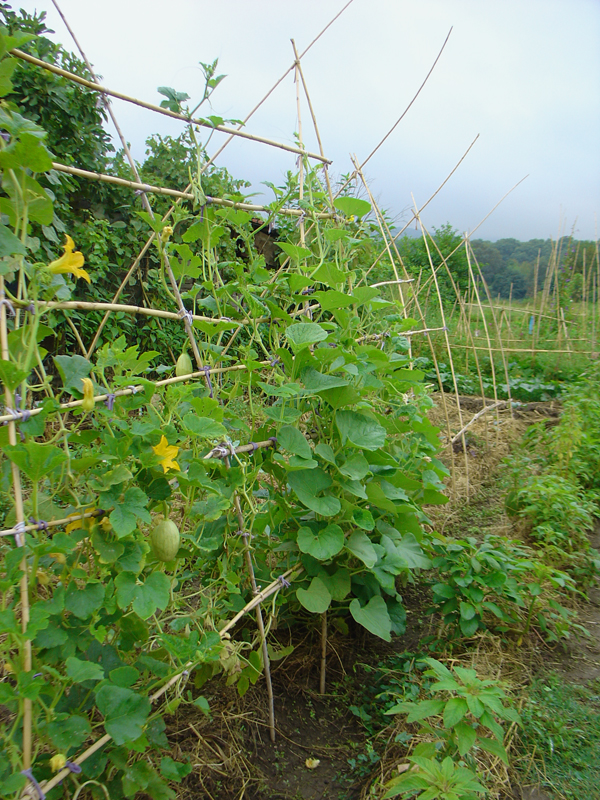 Culiblog kitchen garden trend, the vertical garden: efficient land-use and architectural sculptability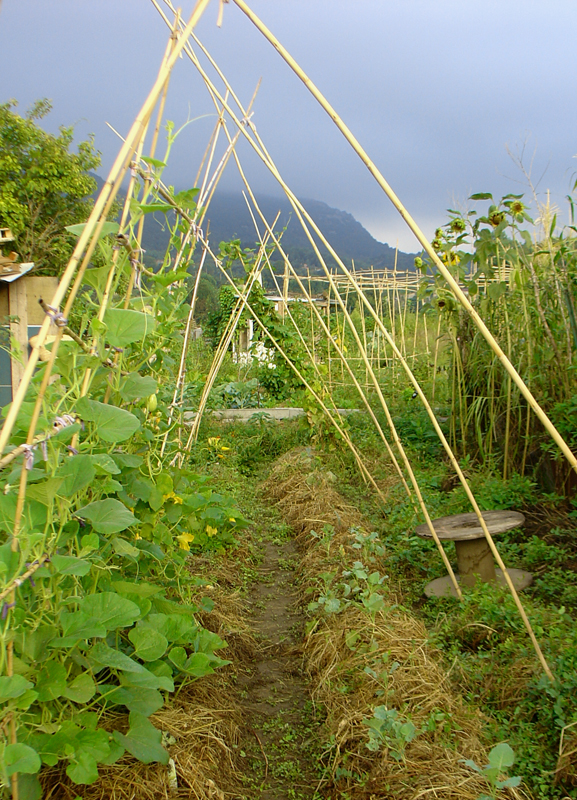 View from vertical garden into the upper kitchen garden just seconds before cloudbreak
Sadly and stupidly the Telegraph Magazine doesn't have a worthy web-presence. The following authors contributed to the Telegraph Magazine issue, Inside the secret gardens of our culinary elite; Carolyn Hart (food editor and writer) with writers Isabel Albiston, Simon Beckett, Drusilla Beyfus, Daisy Bridgewater, Caroline Donald, Emma Hagestadt, Summer Nocon, Rose Prince, Francesca Ryan and Sally Willams.
debra at 12:22 | | post to del.icio.us
No Comments »